News
for the seminar Series of the SFB 1064 please follow this link
November 11-13, 2020
The 6th German Xenopus Meeting
Preliminary time of the meeting from 15:00 to 17:00 each day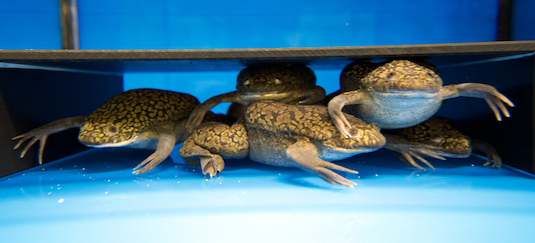 Janet Tait and Daniil Pokrovsky from the Rupp lab organized and hosted this year's German Xenopus Meeting.
This was an excellent opportunity to gather and share our vision, experience and latest results. Due to COVID-19 the meeting was held online. We enjoyed having this opportunity to meet with the Xenopus community!
The meeting was two-hour sessions over three days (11th-13th of November. The first two days were dedicated to regular talks, and the last day with breakout sessions.
What does this mean and how did it work?
• Plenum Talks: On the first two days there were four prsentations. Talks were 15min plus 10 min for questions. All participants were invited to listen to these talks and discuss together.
• Breakout sessions: To introduce some diversity, we decided to ad one day of more interactive breakout sessions that focus on technical aspects of workig with Xenopus. We asked the presenters to lead a small group discussion on a new method, an innovative technique, or a protocol that they have adapted for Xenopus. Presenters gave an overview of their chosen method, its applications, and the practical challenges of implementing this method in the lab, and had plenty of time for questions and discussion! We had 8 breakout sessions, each lasting 30 min. Participants were split into groups (zoom virtual rooms) based on which sessions they wanted to attend.
Click here for the schedule and list of participants
Should you have any feedback or comments, please do not hesitate to write to the organization team: Daniil D.Pokrovsky@med.uni-muenchen.de or Janet Janet.Tait@bmc.med.lmu.de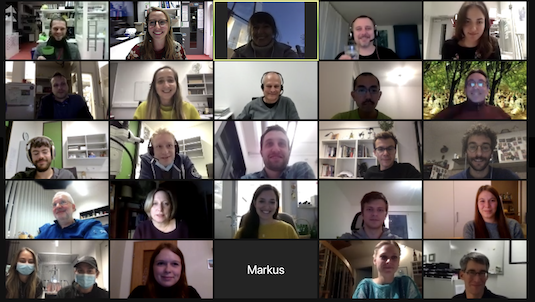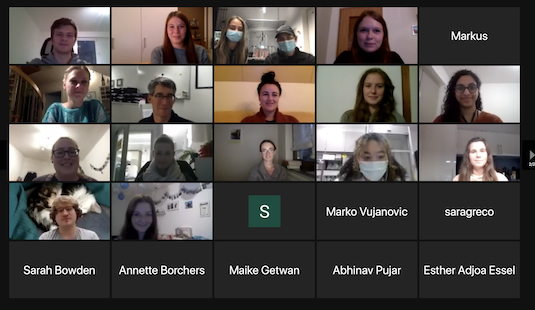 For posterity - our 2020 group photo as a Zoom gallery.
Many thanks to all contributors for the 6th German Xenopus meeting!


December 16, 2020
Our light shines to the world
As a message to the neighbors and the world, the BMC turned into a gigantic Advent Calendar in the dark months of December. Each Day, a window with a decorated number turned into an illuminated letter. The message had to be revealed prematurely due to Covid lockdown: The Molecular Biology offices contributed the word 'THE' to the messages: 'Our light shines to the world'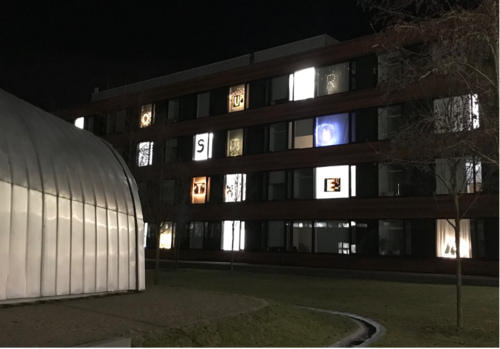 October 1, 2020
Chromatin Day goes virtual
The 11th Chromatin Day of the Collaborative Research Center 'Chromatin Dynamics' was held as a video conference with more than 150 attendees. MolBio research highlights were presented by Christoph (Kurat group), Ashish (Müller-Planitz group) and Sophia (Schotta group).
https://www.sfb1064.med.uni-muenchen.de/events/cd20/index.html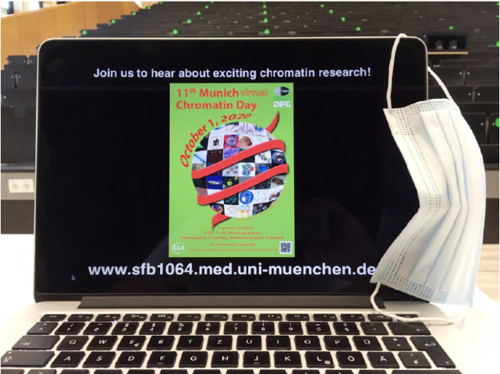 July 27, 2020
How to find a hairpin in stack of paper clips
The long, non-coding roX RNA is a critical component of the dosage compensation machinery that boosts the transcription of the X chromosome in male flies. The vitRIP method developed in the Becker team shows how roX is distinguished from all other RNAs in a cell.
Müller et al., Nucleic Acids Research 48, 7483. https://pubmed.ncbi.nlm.nih.gov/32510132/

May 20, 2020
Flies play DOMINO
The Becker team describe how the complexity of chromatin regulators is generated by different mechanism in fruit flies (differential splicing) and mammals (gene duplication).
(Scacchetti et al. (2020) eLife 56325). https://pubmed.ncbi.nlm.nih.gov/32432549/
see also Scacchetti et al. (2020) Curr Opin Cell Biol., Nov 17;70:1-9.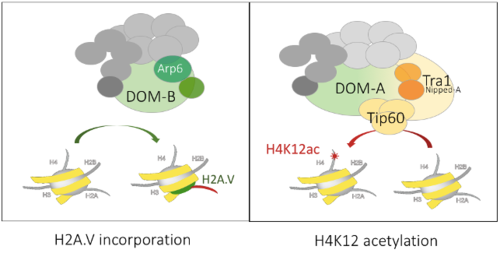 May 1, 2020
A new professor borne
Felix Müller-Planitz, a MolBio Group Leader since 2012, will continue his research on the assembly and decay of chromatin fibers as Professor of Physiological Chemistry at TU Dresden. He will keep his team in Munich until all PhD students have obtained their degrees. Congratulations, Felix, and best of luck for your future research!
https://tu-dresden.de/med/mf/pch/das-institut/arbeitsgruppen/felix-mueller-planitz





March 4, 2020
Spring cleaning reset
Once a year a lot of ATP was burned to fight entropy. From upper shelf to lowest drawer: nothing remained untouched.
The Molbio labs look again like day 1. Let's see how long this lasts.

February 19, 2020
Out of the box and into Alte Wurzhütte
The Molecular Biologists retreated to Spitzingsee for two days of intercultural communication, scientific and lab culture discussions.





February 7, 2020
Regeneration among icicles
The Becker group + friends took a day off and explored the icy Partnacht Klamm.





December 18, 2019
Celebrating a great year
The Becker team enjoyed a festive lunch and treats.





November 29, 2019
What a pity - what a party!
MolBio's lab manager Irene retired after 42 years of dedicated service.
This catalysed a huge reunion of MolBio alumni and current staff.
Because of her contributions to so many PhD theses she received an honorary doctor's hat.



October 16, 2019
Green lab initiative

What do we do?
We discuss, propose and enforce actions and policies to reduce our environmental footprint in the lab, and to make our research more sustainable.
When do we meet?
The green lab is meeting every first Wednesday in the month at 11 am in the room N.B.01.005 in the BMC.
Who can join?
Everybody is welcome to join!!!
You can actively contribute new ideas or simply join the meeting to take some inspiration. Additionally, everyone is more than welcome to spread our ideas to colleagues and friends, and to set up your own green lab meetings in the BMC.


October 9-11, 2019
Dynamic Interactions at the Chromatin Symposium
The DFG-funded Collaborative Research Center 'Chromatin Dynamics' celebrated its 5th International Chromatin Symposium. Members of the Molecular Biology Division contributed with 14 Poster and 2 selected plenary talks (by Petra Vizjak and Filippo Cernilogar) to a most interesting programme.

September 24, 2019
What does the German word 'Gemütlichkeit' mean?
There is no proper translation in English. But those who joined the Octoberfest outing of the Molecular Biology Department with friends from the 'Chromatin Dynamics' community may have come up with an unusual translation. In any case, the event exceeded the expectations of Tony Kouzarides, recipient of the '2019 Octoberfest Lecture Award' of the Collaborative research Center (SFB1064).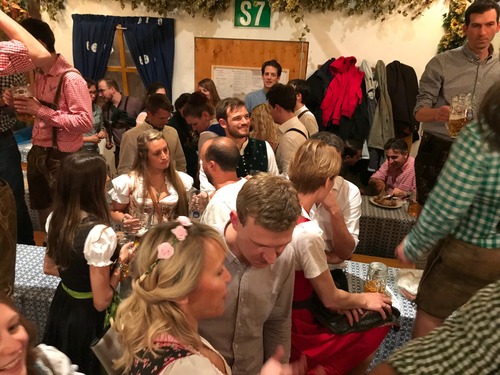 August 22, 2019
Lessons from mashed fly embryos
An extract from 1 hour-old fruit fly embryos recapitulates important aspects of DNA damage sensing and signaling.
The work illustrates a nice collaboration between the BMC teams of Peter Becker, Charo Robles and Axel Imhof.
A Drosophila cell-free system that senses DNA breaks and triggers phosphorylation signalling.
Harpprecht L, Baldi S, Schauer T, Schmidt A, Bange T, Robles MS, Kremmer E, Imhof A, Becker PB (2019)
Nucleic Acids Research 47:7444-7459.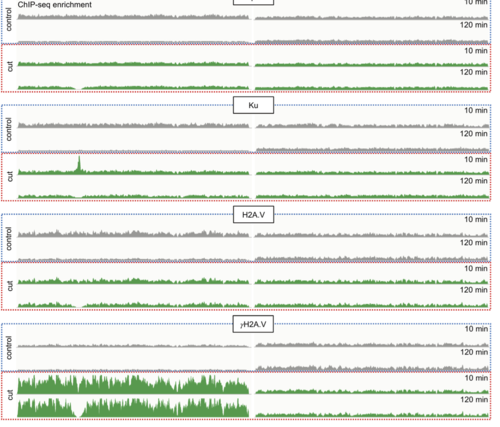 August 20, 2019

Lessons from fly embryos

During the first hours of development Drosophila embryos have to count their chromosomes to find out whether they are male and female. Once they found out that they are male, they must regulate the expression of their sex chromosome. Looking at single embryos researchers in the Becker and Bioinformatics groups now found out that it takes time to get it right.
Progressive dosage compensation during Drosophila embryogenesis is reflected by gene arrangement.
Prayitno K, Schauer T, Regnard C, Becker PB.
EMBO Rep. 2019 Aug;20(8):e48138. doi: 10.15252/embr.201948138.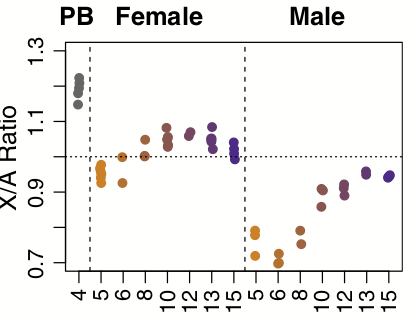 July 19, 2019
Drag the dragon boat
Molecular Biologists helped move the dragon boat in fierceful competition on the Olympic lake.
https://www.en.bmc.med.uni-muenchen.de/news/events/drachenboot2019_hi/index.html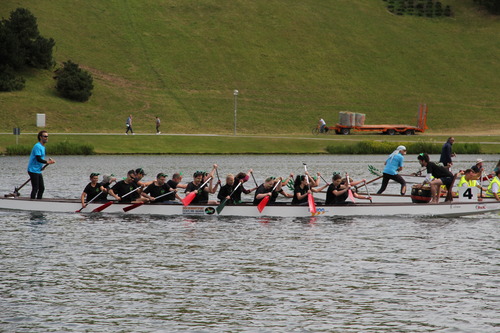 July 31, 2019

Gatekeepers of the genome

Transcription factors control gene activation in cells. By binding to specific segments of DNA, they enable the blueprints that code for cellular proteins to be produced. But how are such factors themselves regulated?
learn more at : https://www.en.uni-muenchen.de/news/newsarchiv/2019/schotta_ptf.html
July 25, 2019
10th Munich Chromatin Day
Once more the Munich Chromatin Community gathered for show and tell at Chromatin day. This day is organized by Collaborative Research Center 'Chromatin Dynamics' (funded by the DFG),. The Molecular Biology Division participates in this CRC with 9 projects. Many talks presented collaborative research that was conceived on Chroamitn Day 2018!
https://www.sfb1064.med.uni-muenchen.de/events/cd19/index.html





July 16, 2019
Be2 run among the 30,000
Many Molecular Biologists joined the BMC team for a fun run at the Olympic park.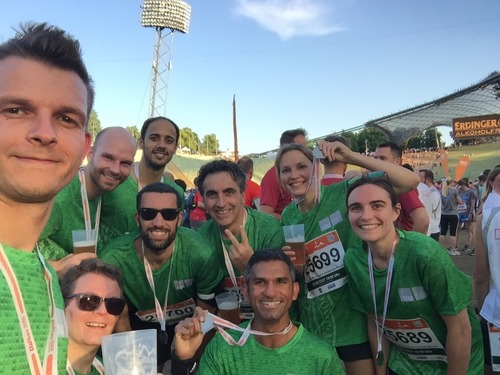 May 2019
Time to Tweet!
The Becker Lab joins the ever growing scientific community on Twitter. For news, publications and job opportunities, follow us @lab_becker.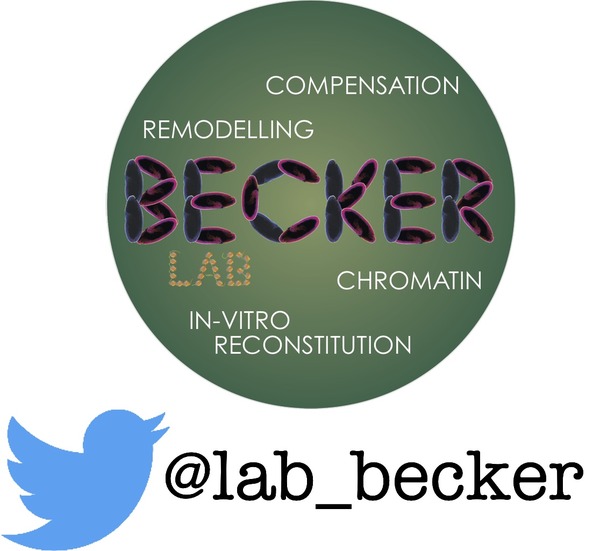 February 28, 2019
Factors cooperate to keep nucleosomes off their binding site
A study from the Becker lab reveals an important principle through which transcription of genes on the X chromosome can be selectively activated.
Albig et al. (2019), Factor cooperation for chromosome discrimination in Drosophila.
Nucleic Acids Res. 47:1706-1724. https://doi.org/10.1093/nar/gky1238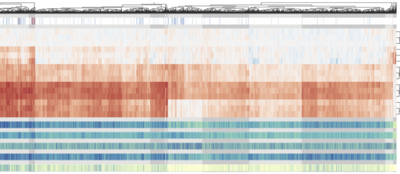 December 18, 2018
Candles on the bridge to brighten the dark days
The Molecular Biologists once more enjoyed Christmas Dinner on the bridge, with international food, light entertainment and good conversations.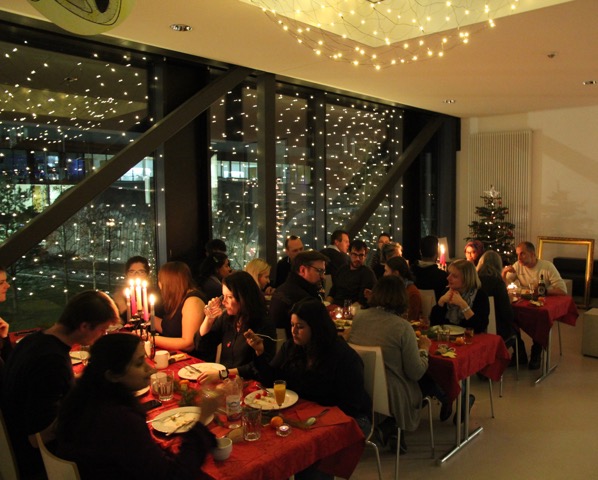 November 5, 2018
Nucleosomes face the Phaser
Phased nucleosome arrays are successions of evenly spaced and well-positioned nucleosomes that the 5' end of active genes. Now, researchers from the Becker group and the BMC Bioinformatics Unit have for the first time systematically mapped such phased arrays on a genome-wide level in flies and studied the mechanism of their formation. They also identified a novel protein that determines most of nucleosome phasing outside of promoters. An important new tool introduced in this study was the use of Drosophila embryo extracts to reconstitute chromatin genome-wide in vitro.
Publication: Baldi et al., Molecular Cell 2018 Oct 19. pii: S1097-2765(18)30803-7.
doi: 10.1016/j.molcel.2018.09.032.
https://www.cell.com/molecular-cell/fulltext/S1097-2765(18)30803-7
LMU news features:
German: https://www.uni-muenchen.de/forschung/news/2018/becker_phaser.html
English: https://www.en.uni-muenchen.de/news/newsarchiv/2018/becker_phaser.html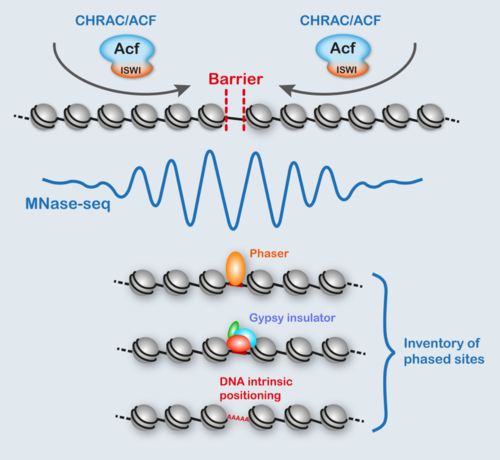 October 22-24, 2018
Molecular Biologists Retreat to the Monastery
The Molecular Biologists experienced fresh views during their retreat to monastery 'Neustift' in Brixen (Italy). However, there was little time for contemplation given the tight agenda with discussions of 'Lab culture', a 1-day workshop on 'Effective Visual Communication of Science' and an 'Analytical Skill' exercise.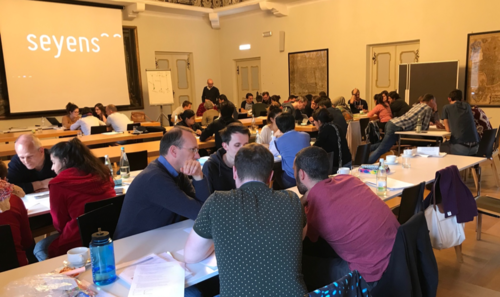 11./12. October 2018
Mountain peaks for a change
The Becker Group interrupted their studies on genomic profiles to examine some mountain profiles in the Rofan Alps. Their spirits were high, matching the altitude of their base camp,' Erfurter Hütte' (1834 m).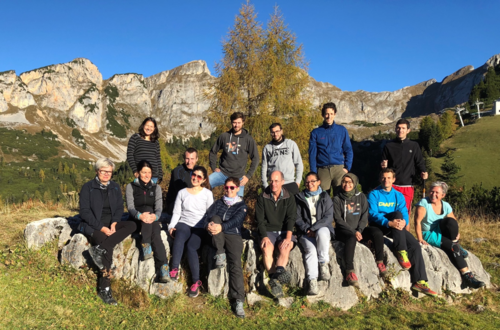 September 25, 2018
A new method reveals nucleosome array regularity and spacing

The positioning of nucleosomes relative to each other can have important consequences for chromatin structure and genome regulation. However, so far nucleosome array regularity and spacing could only be measured with high throughput on select sites with well-positioned nucleosomes. Now, the Becker lab, in collaboration with the Laboratory for Functional Genome Analysis at the Gene Center, developed Array-seq, a new technique to determine nucleosome array regularity throughout the genome. Array-seq relies on nanopore DNA sequencing, a new technology that has been revolutionizing high-throughput sequencing in the past years. Baldi et al. found that transcriptionally active genes have particularly irregular nucleosomes arrays, whereas silent genome domains tend to be very regular. Array-seq even allowed determining the chromatin structure of unmappable heterochromatic regions, which could not be analyzed with traditional techniques.
Article: https://www.nature.com/articles/s41594-018-0110-0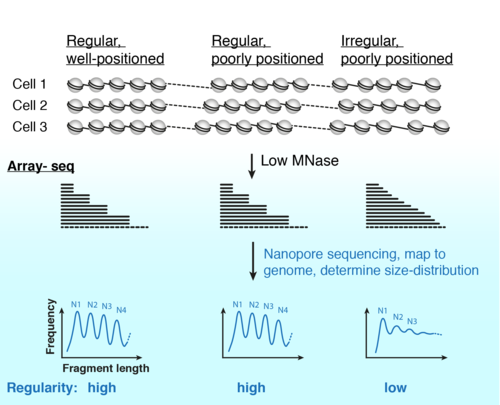 September 12, 2018
Flashmob Syrtaki
The 'Becker Team' surprised the participants of the 'Secrets of Chromatin' Symposium with a perfect Syrtaki choreography.
The performance ended in a wild dance vortex with everybody joining in.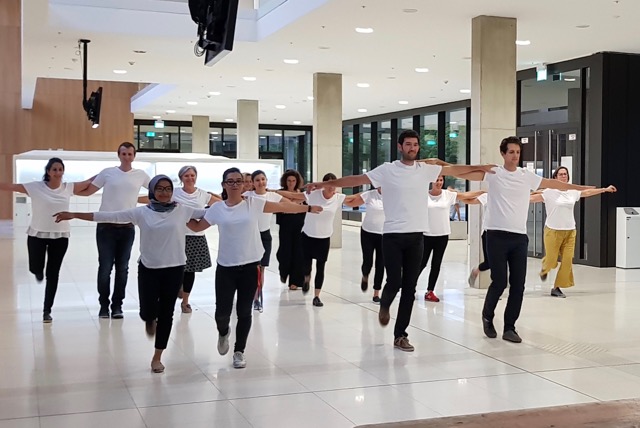 September 12, 2018
Happy gathering
An impressive number of 'Becker lab' contemporary members and alumni gathered on the Occasion of the 'Secrets of chromatin Symposium'. They congratulated Peter, who had just turned 60, with a multi-lingual 'Happy Birthday!'
https://www.sfb1064.med.uni-muenchen.de/events/secrets/index.html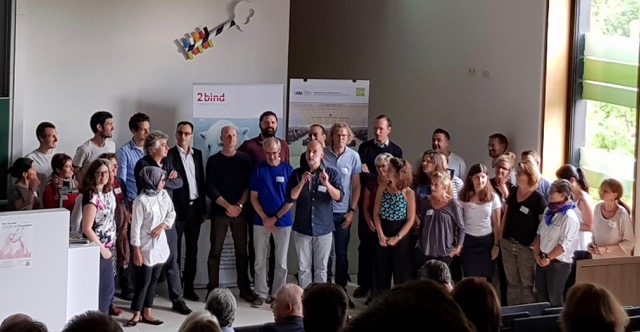 July 20, 2018
Chromatin day
For the 9th time 150 chromatin biologists working in Munich gathered for an exciting day, celebrating the research highlights of the past year.
Chromatin day is organised by the Collaborative Research Center 'Chromatin Dynamics'.
https://www.sfb1064.med.uni-muenchen.de/index.html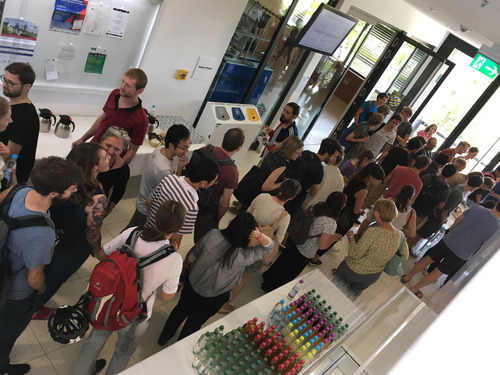 July 13, 2018
Don't pipette, but paddle, for a change
Molecular biologists strongly contribute to 'Team BMC' at the Dragon Boat Race.
https://www.en.bmc.med.uni-muenchen.de/news/events/drachenboot2018hi/index.html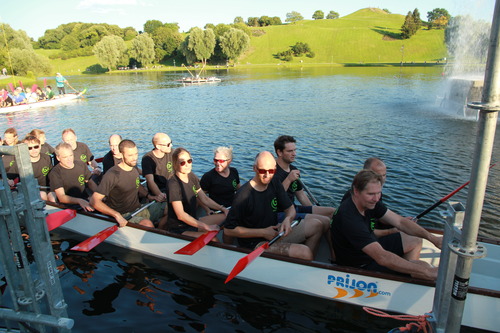 June 6,2018
Prestigious Fellow
Congratulations to Zivkos Apostolou, who was awarded an EMBO Long-term Fellowship to support his research in the Becker lab.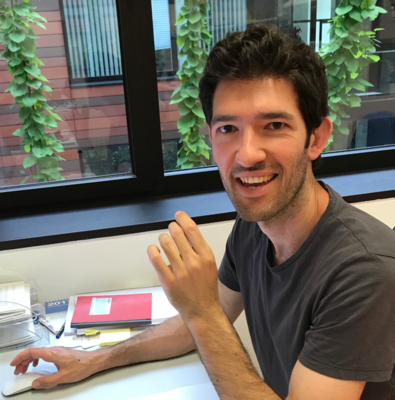 June 05, 2018
EpiQMax wins MIT:FUTURA award
The BMC Start-Up EpiQMax won the MIT:FUTURE award in Berlin last week for their innovative buisness model and their transformation strategy.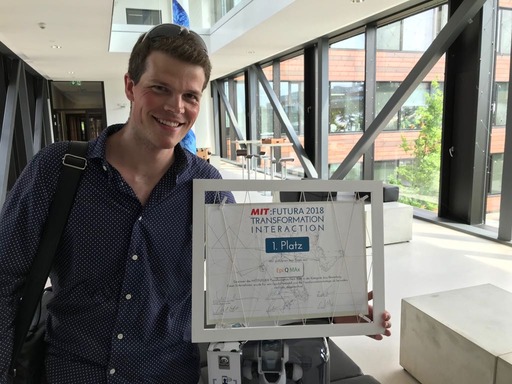 https://www.mit-bund.de/content/transformation-interaction-das-war-die-mitfutura-2018
http://www.bmc.med.uni-muenchen.de/news/news/mitfutura2018hi/index.html
May 14, 2018
An honour at the European level
Axel Imhof was elected Member of the European Molecular Biology Organisation (EMBO). Congratulations to this prestigious honour!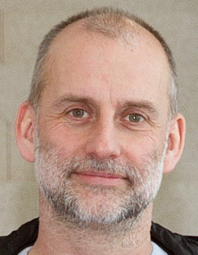 http://www.embo.org/news/press-releases/2018/62-life-scientists-elected-as-embo-members
May 7, 2018
Axel Imhof made BMC influencer
On the occasion of his birthday Axel Imhof was presented the first BMC T-shirt.
Further highlights of the evening were the breakthrough song of his team, an international buffet and a Ceilidh dance.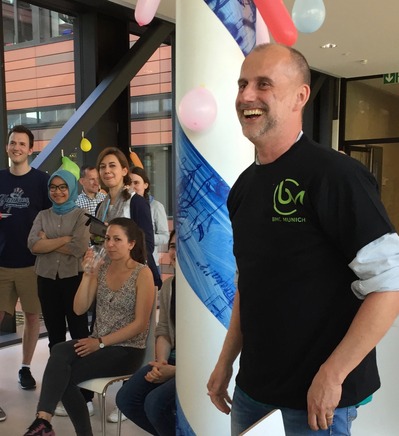 March 16, 2018
Scientists on the benches
A rare sight that can only be seen during the annual Spring Cleaning of the Molecular Biologists, as they reach up to the uppermost shelve to remove the dust of the past year.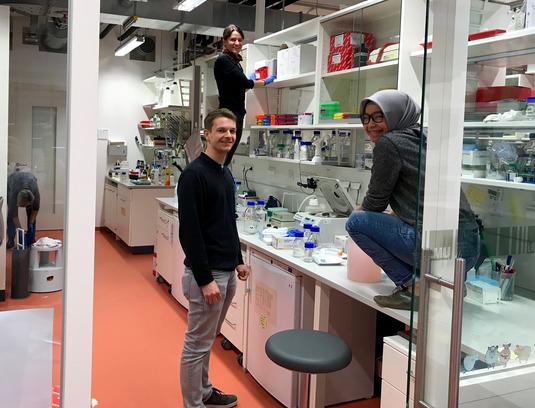 February 23, 2018
Workshop 'Science Ethics'
The PhD students of the EU-funded PhD training network 'ChromatIN3D' engaged in vivid discussions with their tutors Tobias Straub (BMC), Sebastian Bultmann (Biozentrum) and Peter B. Becker (BMC) about good scientific practise and ethical challenges in the Biosciences.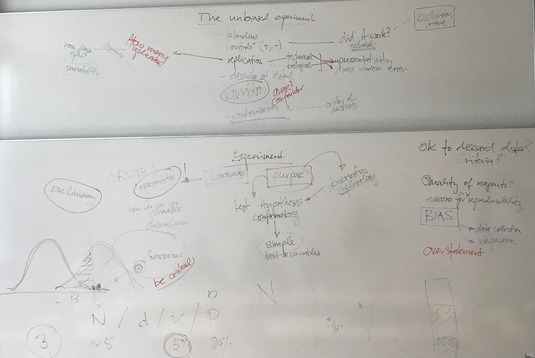 February 22, 2018
Minisymposium 'Developmental Programming and Reprogramming'
An audience of 120 local enjoyed a full day of most exciting talks about the 'epigenetic' dimension of developmental switches.
The meeting was co-sponsored by the Interdisciplinary Training Network 'Chromatin Dynamics in Development and Disease' (ChromatIN3D) funded by the European Union, by the local Collaborative Research Center (SFB) 'Chromatin Dynamics' funded by the DFG and th eBiomedical Center Munich.

link: http://www.sfb1064.med.uni-muenchen.de/3dchromatin/index.html
http://www.sfb1064.med.uni-muenchen.de/3dchromatin/photo-gallery/index.html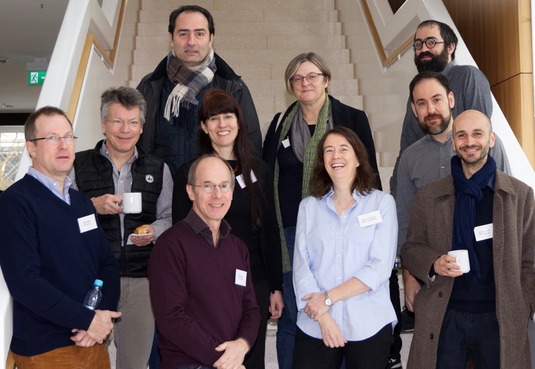 February 21, 2018
ChromatIN3D visitors at BMC

The Becker group hosted members of the Interdisciplinary Training Network 'Chromatin Dynamics in Development and Disease' for their Annual Reporting Meeting. This Marie Sklodowska Curie Actions Innovative Training Network is funded by the Horizon 2020 framework of the European Union
link: http://www.chromatin3d.eu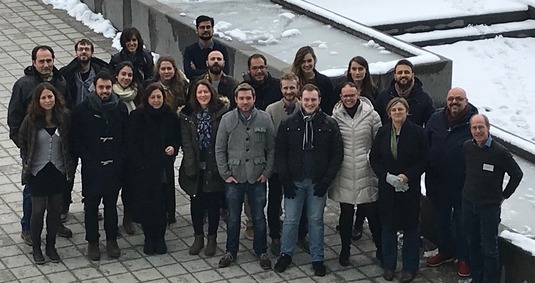 January 9, 2018
International into 2018
The theme of this year's New Year Reception of the Molecular Biology Division was 'Internationality of Research'. Among the 65 members of the department 16 different nationalities are represented.
December 20, 2017
Potluck international
The Becker group celebrated an intense year of research with a festive potluck lunch on the bridge.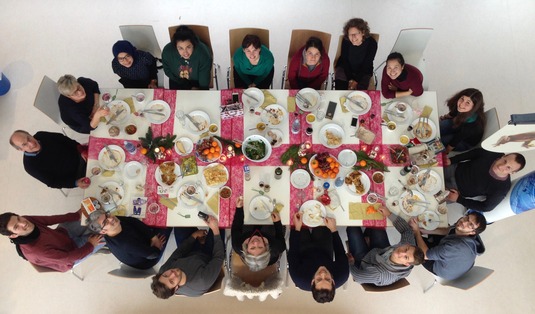 December 6, 2018
Frosty Get-together
The Glühwein and Kinderpunsch prepared by the Molecular Biologists helped BMC staff to resist the icy winds at this year's Nikolaus Market.
http://www.en.bmc.med.uni-muenchen.de/news/events/xmasmarket2017ref/index.html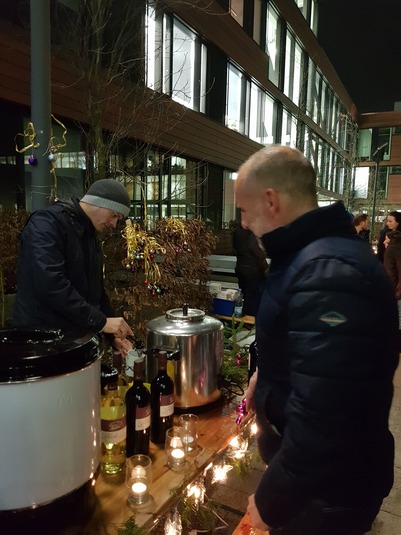 December 5, 2017
A kick for Alex
Colleagues and friends engaged in a farewell kicker tournament in the honour of Alex, who leaves the department after many years of excellent work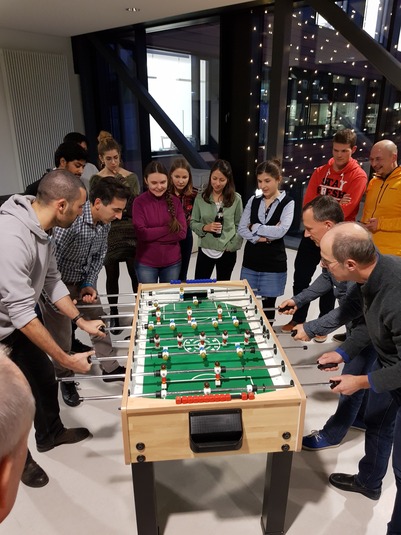 November 23, 2017
Easy Escape
With great team spirits and loads of creativity the Becker group lifted the mysteries of three escape rooms.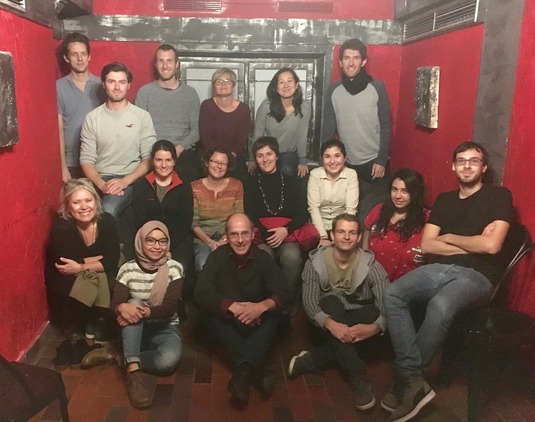 November 15, 2017
Christoph Kurat establishes new line of research
Christoph joins us after a very successful postdoctoral research with John Diffley at the Francis Crick Institute in London.
He will establish a new team deciphering basic mechanisms of chromatin replication using the yeast model.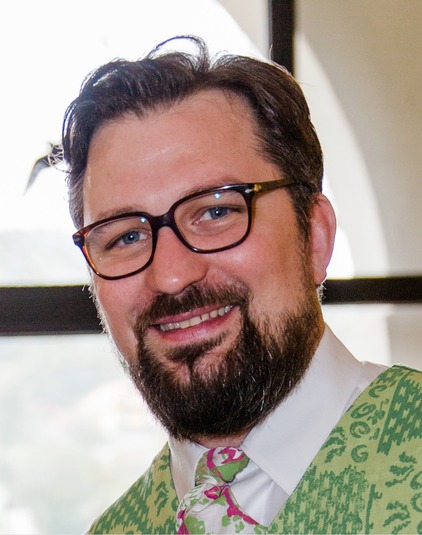 Sep 18, 2017
Oktoberfest Lecture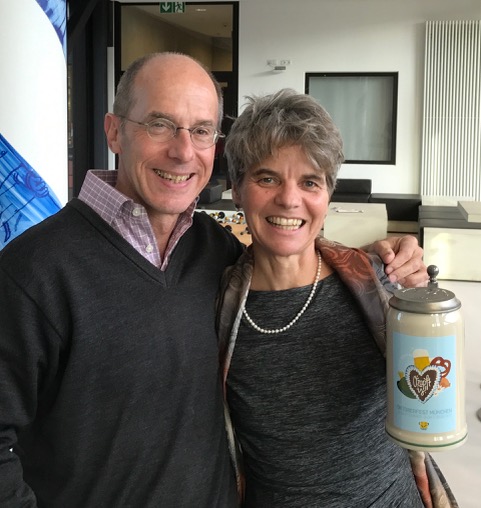 Karolin Luger wins the 2017 Oktoberfest Award!
Jul 7, 2017
Dragonboat Competition
Scientist of the Molecular Biology Division teamed up with other BMC colleagues for a paddling event on the Olympiasee.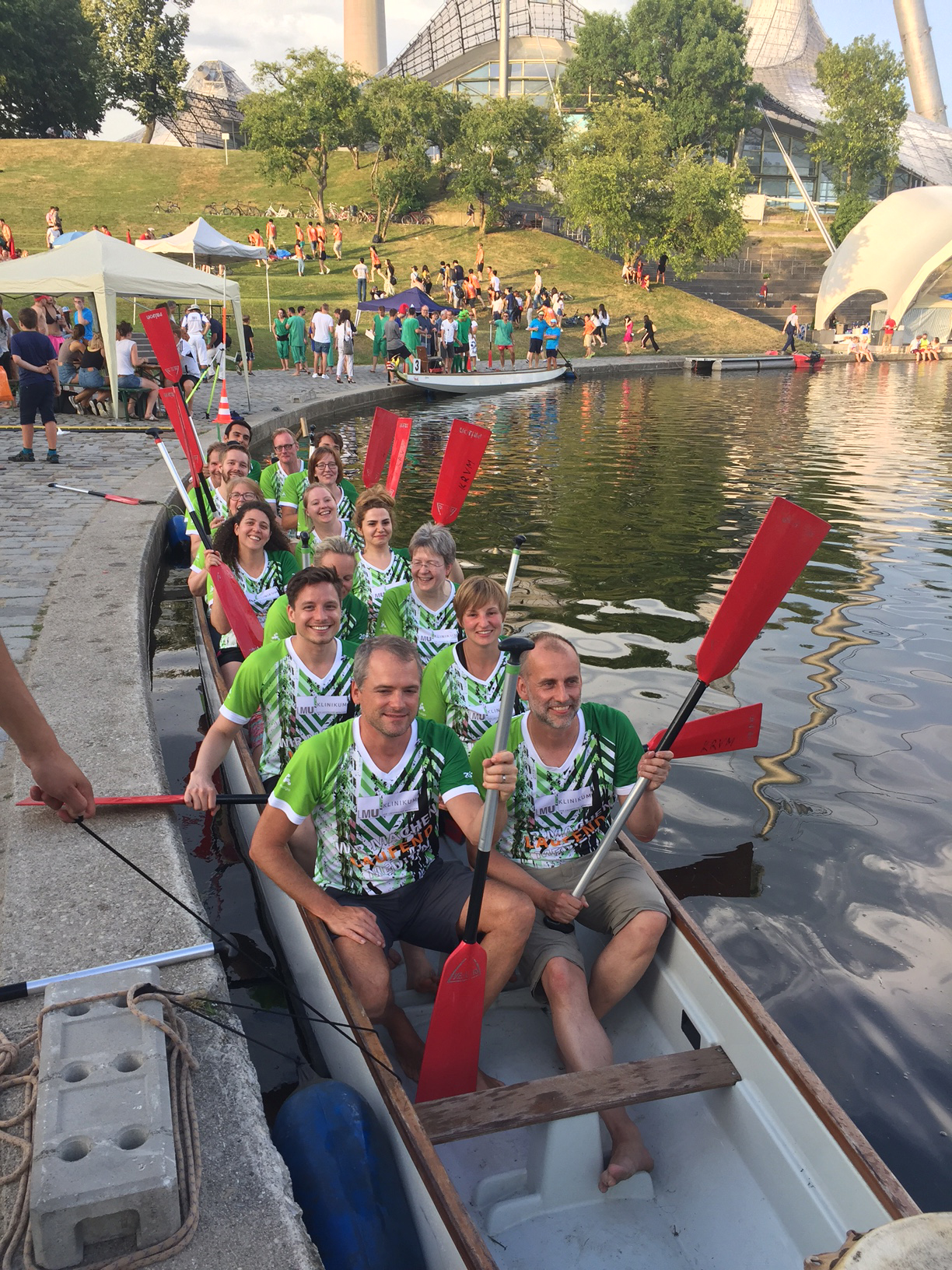 May 30/31, 2017
Retreat combined with Outreach.
During the last days of May the labs of the Molecular Biology Division were unusually quiet since most its inhabitants participated in their Annual Retreat. This years outing led them to the Salesian Abbey in Benediktbeuren, where they spent a day and a night with vivid discussion. The scientists discussed in small teams how to best explain their scientific passions and projects to the lay people. We are looking forward to seeing what they have come up with!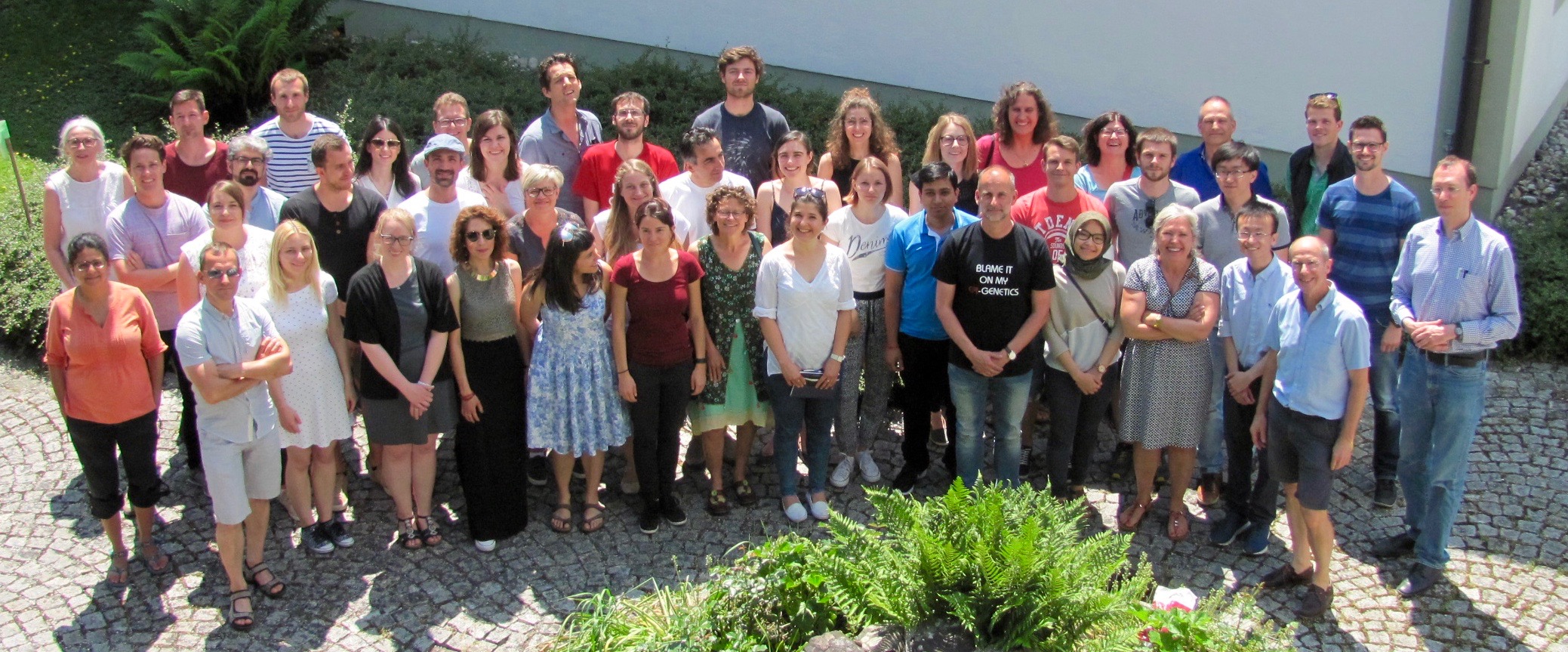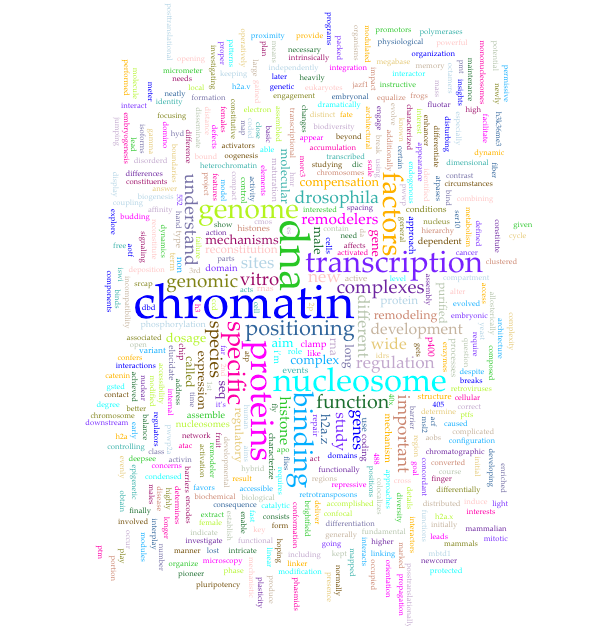 January 31, 2017
Narrow escape
Three teams from the Becker group took the challenge to escape from mysterious rooms. They learned a lot and certainly had a lot of fun!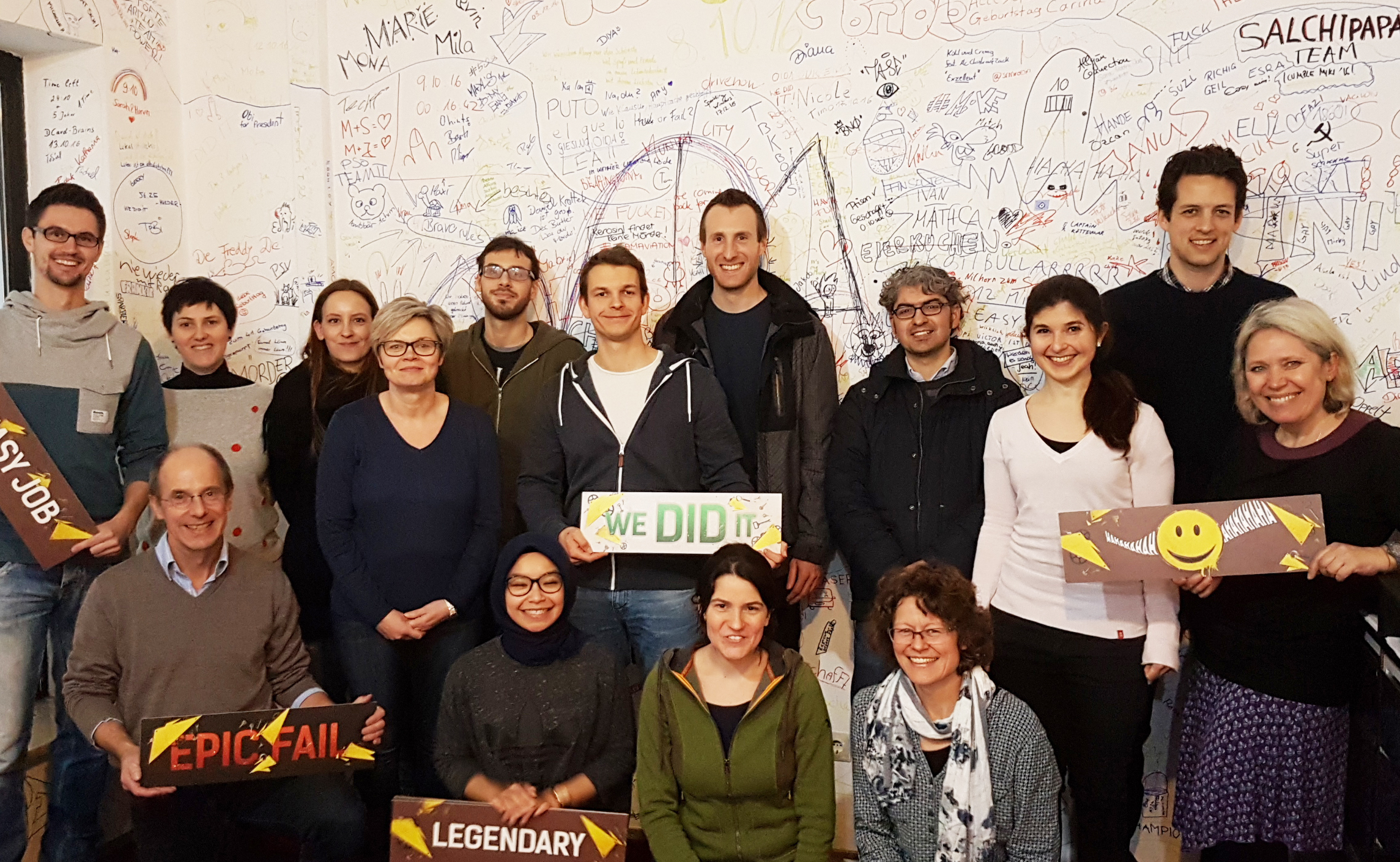 January 21, 2017
Activation mechanism of an important chromatin remodeling ATPase revealed
Nucleosome remodeling enzymes can slide nucleosomes along DNA. But how are these enzymes regulated? A remodeling enzyme called ISWI becomes active when it interacts with a 'tail' region of a histone protein called H4. The Mueller-Planitz lab recently succeeded in mapping where the H4 tail binds to ISWI by combining protein cross-linking and mass spectrometry. In addition, they studied how the enzyme becomes active upon binding of the H4 tail. Evidence suggests that other remodeling enzymes have similar regulation mechanisms; therefore this method of controlling nucleosome remodeling may have been conserved throughout evolution.
eLife digest DOI: http://dx.doi.org/10.7554/eLife.21477.002
Article DOI: http://dx.doi.org/10.7554/eLife.21477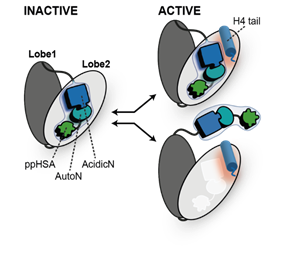 November 23, 2016

New building blocks: nucleosomes as part of DNA origamis

The graduate student Corinna Lieleg (Korber group,BMC) and the Dietz group(TU Munich [link to Dietz group homepage: http://www.dietzlab.org/]) collaborated to incorporate nucleosomes into "DNA origami" nano-structures. Using a hinged two-beam DNA origami device as a molecular force spectrometer, the energy landscapes of nucleosome stacking and unwrapping could be measured in an unprecedentedly direct way (Funke*, Ketterer*, Lieleg* et al., 2016, Science Advances; Funke et al., 2016, Nano Letters).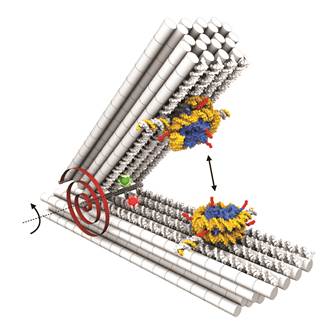 link to both papers:
http://advances.sciencemag.org/content/2/11/e1600974.figures-only
http://pubs.acs.org/doi/full/10.1021/acs.nanolett.6b04169
November 18, 2016
Epic end of an era.
The Molecular Biology division said 'fare well' to Sandra Hake with a jolly carnival party, which only barely covered the sadness of seeing Sandra move on. Sandra had been a group leader for a decade and her rounded personality and scientific excellent has shaped our institute much. Sandra is now a Professor of Genetics in Giessen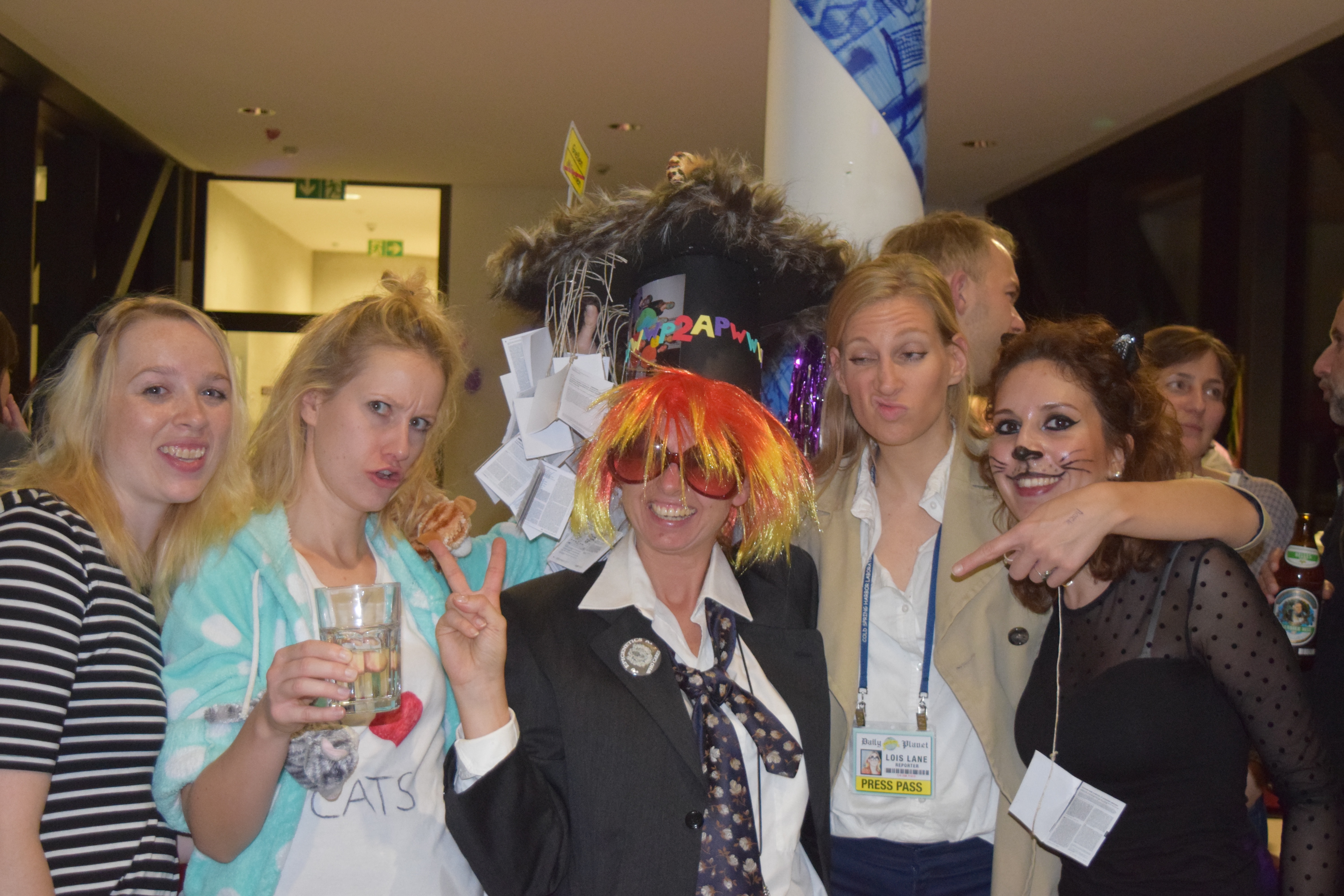 October 26, 2016
Epigenetics and neural cell death
In collaboration the Götz and the Schotta Lab have demonstrated how deregulation of an epigenetic mechanism that is active only in the early phases of neurogenesis triggers the subsequent death of neural cells.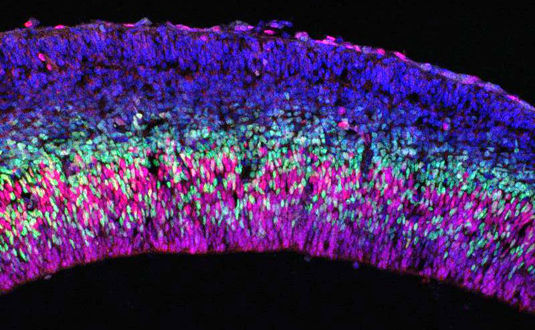 Cerebral cortex. Immunostained for Uhrf1 (neural stem cells, red). Picture: Vidya Ramesh
http://www.en.uni-muenchen.de/news/newsarchiv/2016/goetz_epigenetik.html
October 20, 2016
Genomic nucleosome organization reconstituted with pure proteins

The graduate student Nils Krietenstein (Korber group, BMC), in close collaboration with the Pugh (Pennsylvania State University, USA) and Peterson (University of Massachusetts Medical School, USA) groups, succeeded in reconstituting in vivo-like promoter nucleosome patterns across the budding yeast genome with purified factors (Krietenstein*, Wal*, et al., 2016, Cell). This rather unique genome-wide biochemistry approach revealed the direct, specific and to a surprisingly large extent sufficient contribution of ATP-dependent nucleosome remodeling enzymes and so called barrier factors in setting up a dynamic, self-organizing ground-state of nucleosome positioning.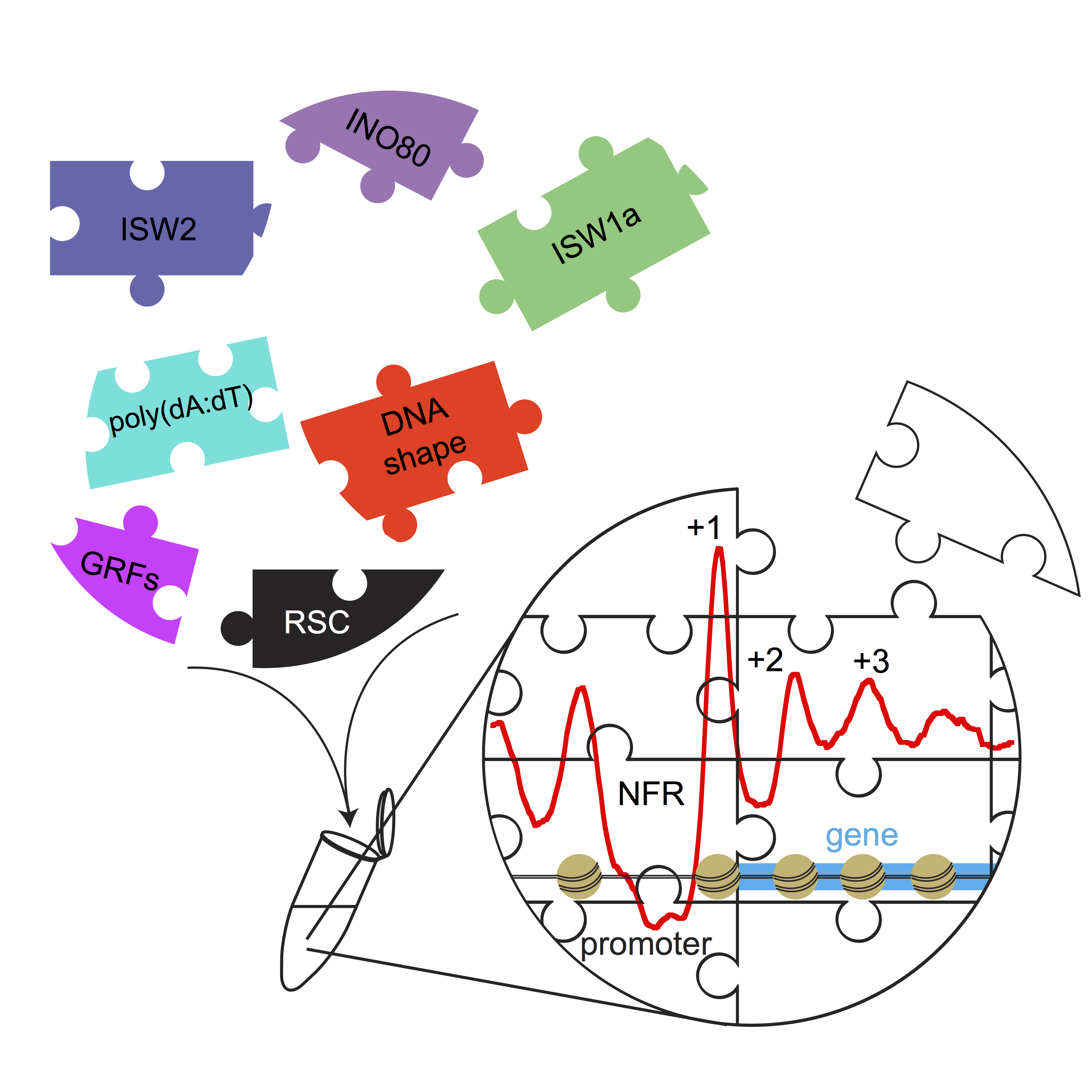 link to LMU press release on same paper:
http://www.en.uni-muenchen.de/news/newsarchiv/2016/korber_dnaverpackung.html
link to Cell paper and its preview:
http://www.cell.com/cell/fulltext/S0092-8674(16)31390-3
http://www.cell.com/cell/fulltext/S0092-8674(16)31330-7
August 31, 2016
Telling the chromosomes apart
A fruitful collaboration between researchers in the Becker group and the BMC Bioinformatics unit made a significant step towards solving the long-standing mystery of how regulation of X chromosone 'dosage compensation' is restricted to the X chromosome. In their article published in Nature they describe how the dosage compensation machinery reads out subtleties of DNA shape to distinguish the X chromosome from the autosomes.
http://www.nature.com/nature/journal/vaop/ncurrent/full/nature19338.html
http://www.en.uni-muenchen.de/news/newsarchiv/2016/becker_dosiskompensation.html
http://www.uni-muenchen.de/forschung/news/2016/becker_dosiskompensation.html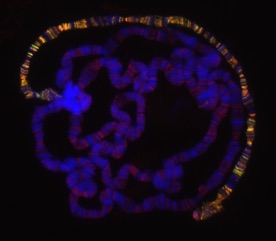 August 10, 2016
Following the European championship
the soccer aficionados in Molecular Biology sorted it out. The picture shows the winners of the table soccer 'kicker' tournament.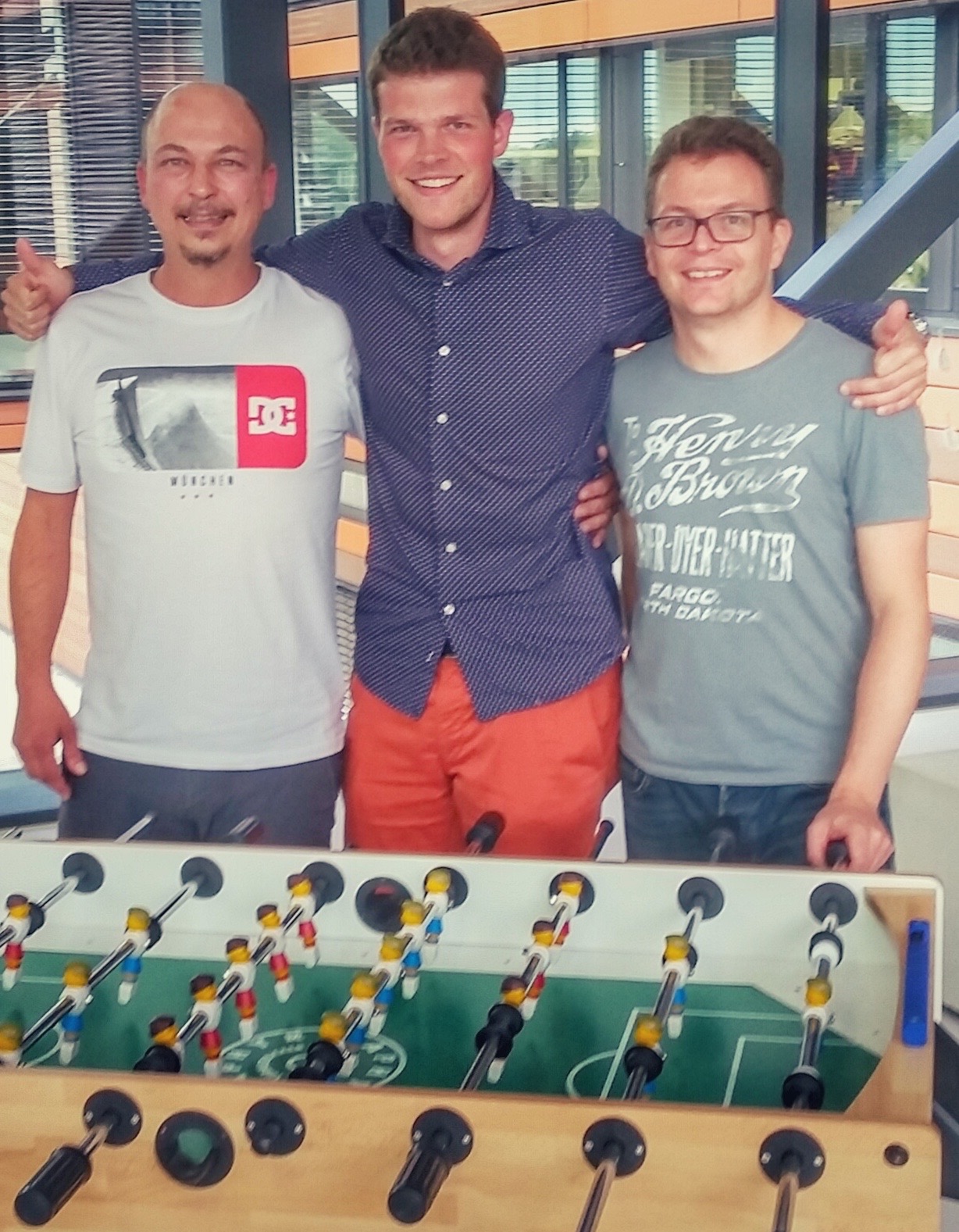 July 21, 2016

Our favourite day
of the year is 'Chromatin Day'!
This day-long Chromatin Symposium is organised by the DFG-funded research network 'Chromatin Dynamics'. 150 chromatin researchers came together to exchange the most exciting results and then made friends at the barbecue.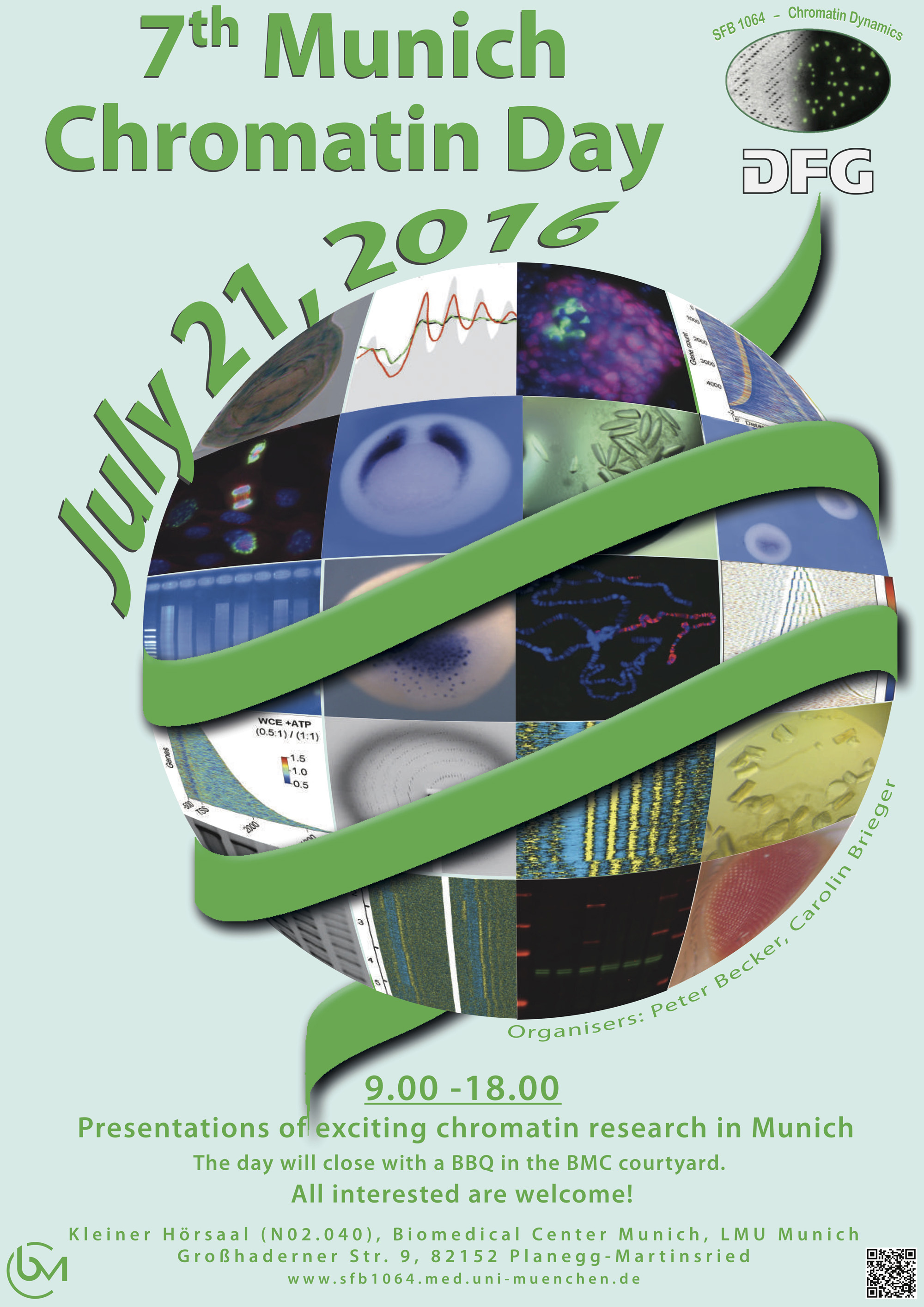 July 14, 2016
A strong team
The runners from 'Molecular Biology' immersed in a sea of some 30,000 runners at the B2run Company Run. The picture shows them still fresh before leaving for the Olympia Stadium.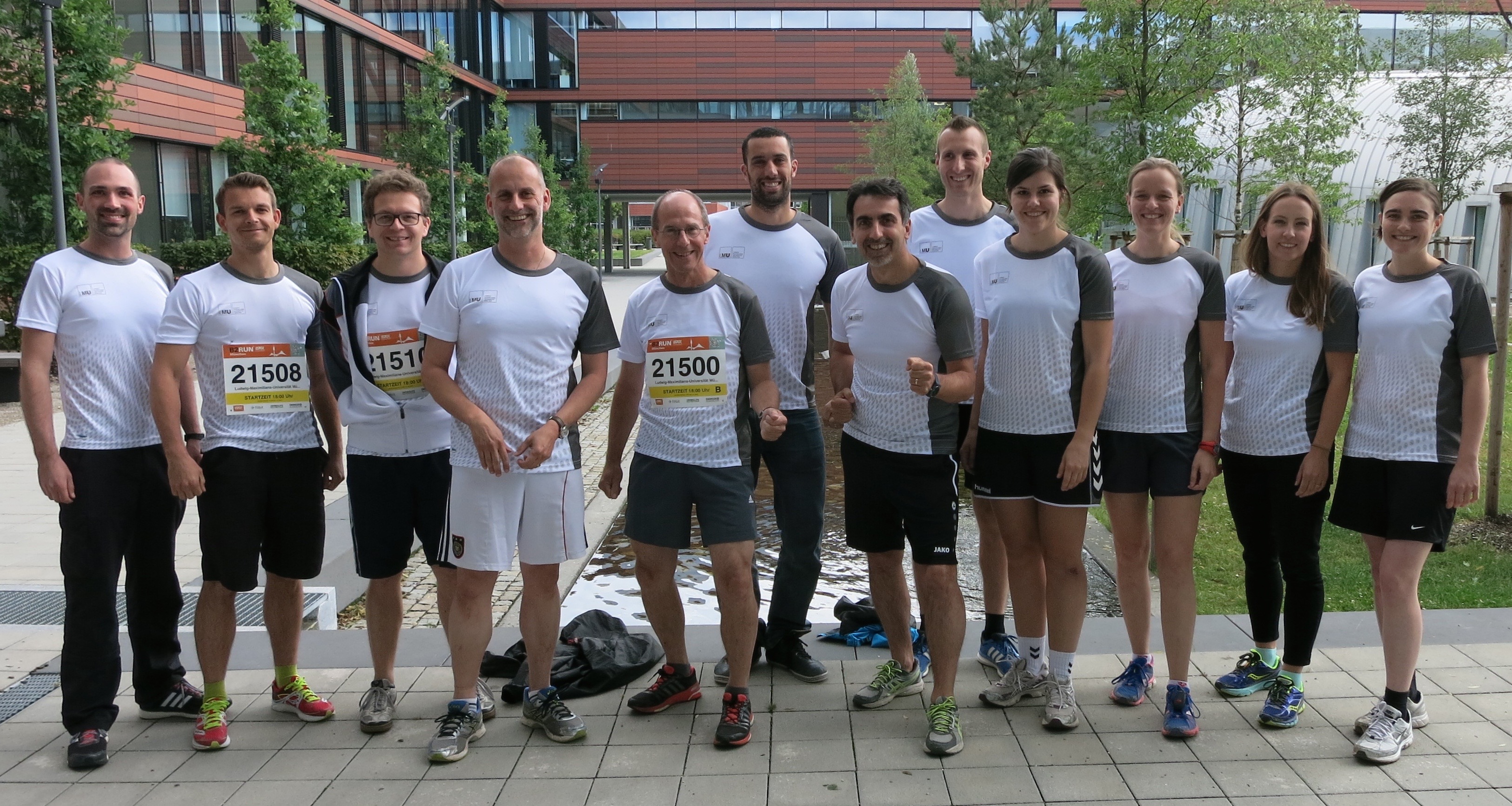 July 14, 2016
Support for risky research
The German Research Council (DFG) decided to fund a research proposal by Peter B. Becker under their presti Reinhart-Koselleck Programme. This programme enables outstanding researchers with a proven scientific track record to pursue exceptionally innovative, higher-risk projects.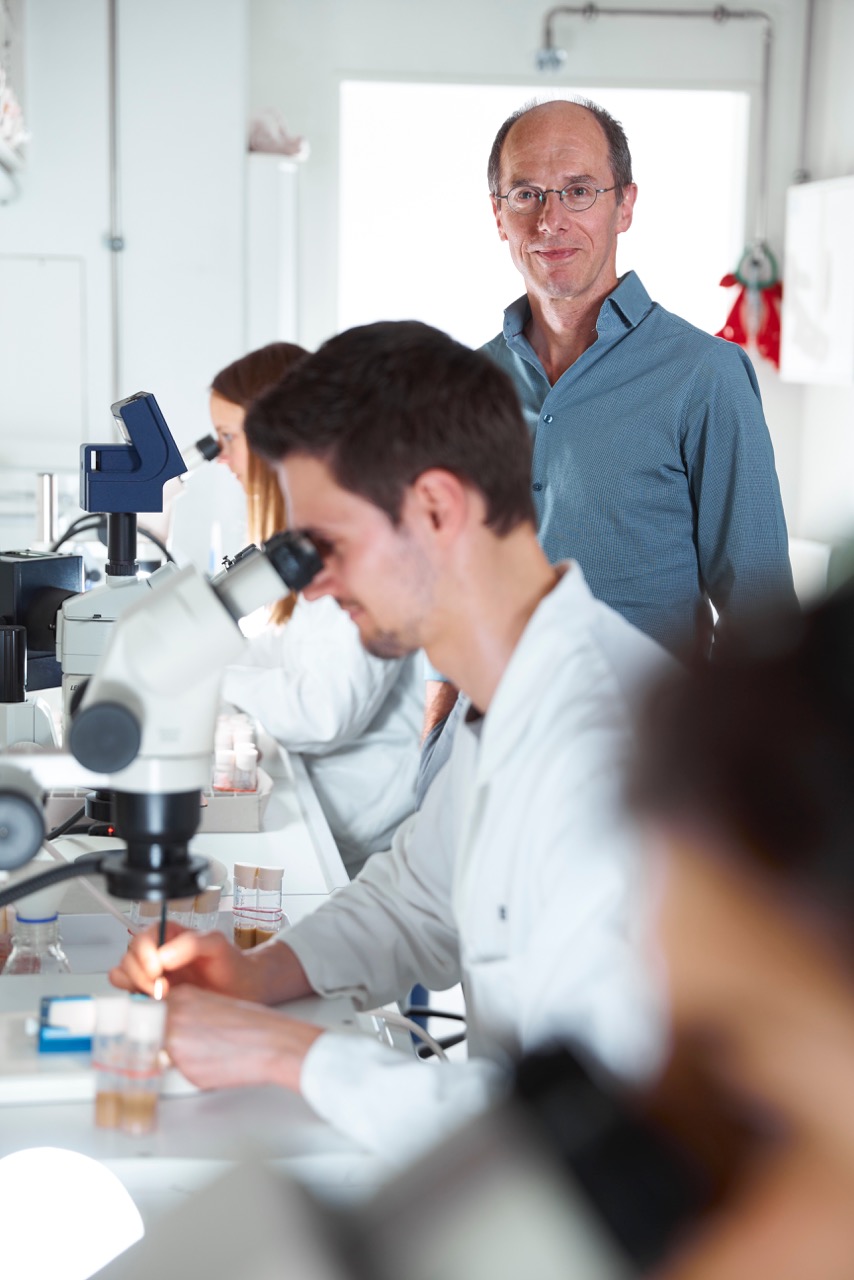 http://www.med.uni-muenchen.de/forschung/aktuell/reinhart-koselleck/index.html
May 17, 2016
LMU News
Endogenous retroviruses - Lethal reawakening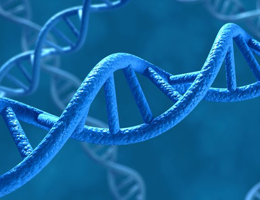 (Picture: norman blue / Fotolia.com)
http://www.en.uni-muenchen.de/news/newsarchiv/2016/schotta_setdb1.html
http://www.uni-muenchen.de/forschung/news/2016/schotta_setdb.html
March 12, 2016
We are family
A good number of Molecular Biology Alumni met on the occasion of the 'Chromatin Dynamics' meeting. This was a good opportunity to exchange recent developments and to explore the new research building.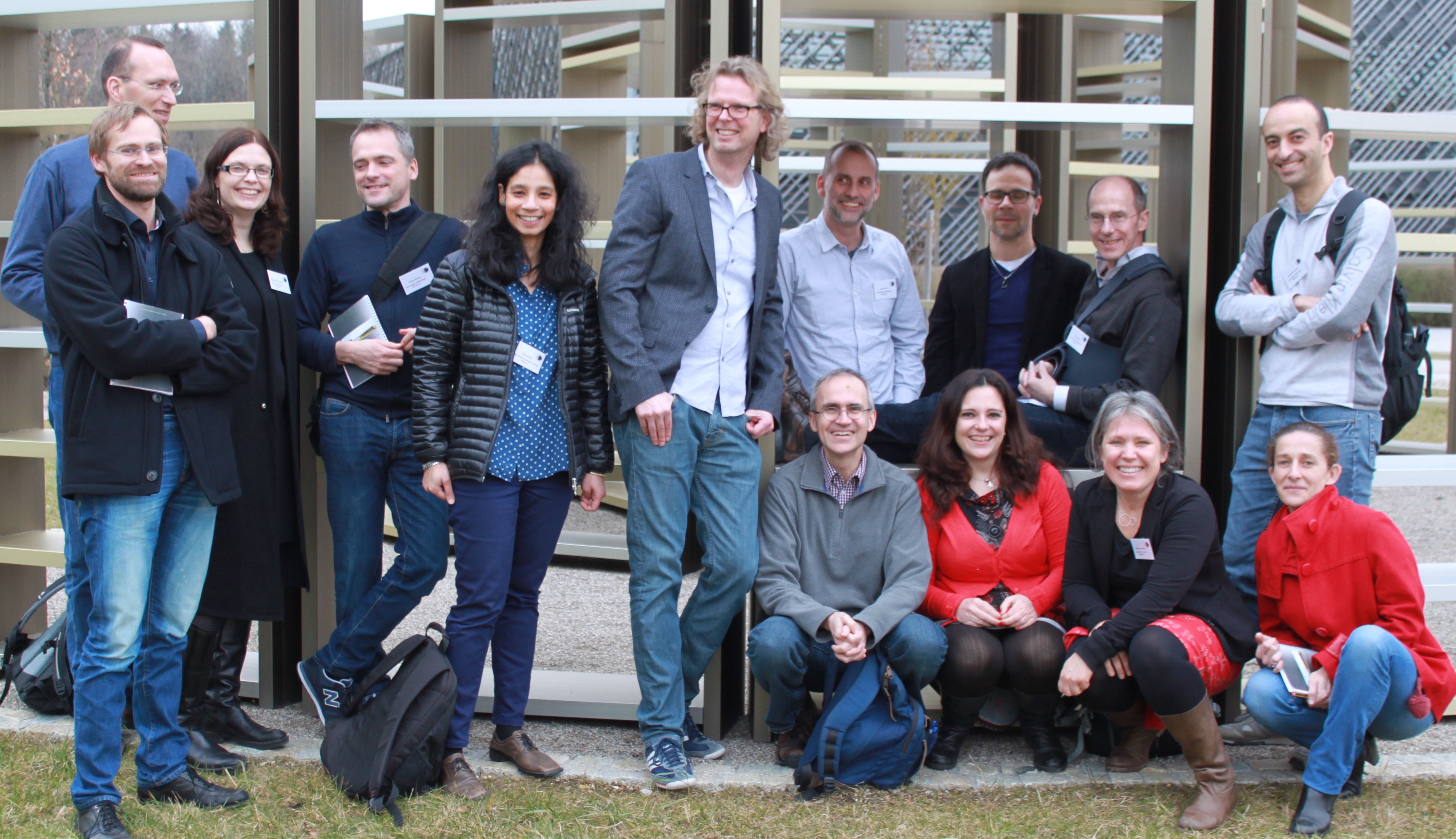 The picture shows present and past members (top row from left: Matthias Prestel, Philipp Korber, Ragnhild Eskeland, Tobias Straub, Asifa Akhtar, Gernot Längst, Axel Imhof, Jörn Böke, Peter Becker, Karim Bouazoune; bottom row: Alexander Brehm, Annalisa Izzo, Catherine Regnard, Charlotte Grimaud)
March 10, 2016
Dynamic Chromatin Symposium
The scientists of the Molecular Biology Division joined some 350 chromatin afficionados for a vibrant two-day Symposium on Chromatin Dynamics. The meeting was organised by the local Collaborative Research Center 1064 funded by the DFG. The superb list of international speakers and about 120 excellent posters made these days a most memorable experience.
http://www.sfb1064.med.uni-muenchen.de/events/news/chromatin_symposium_2016/index.html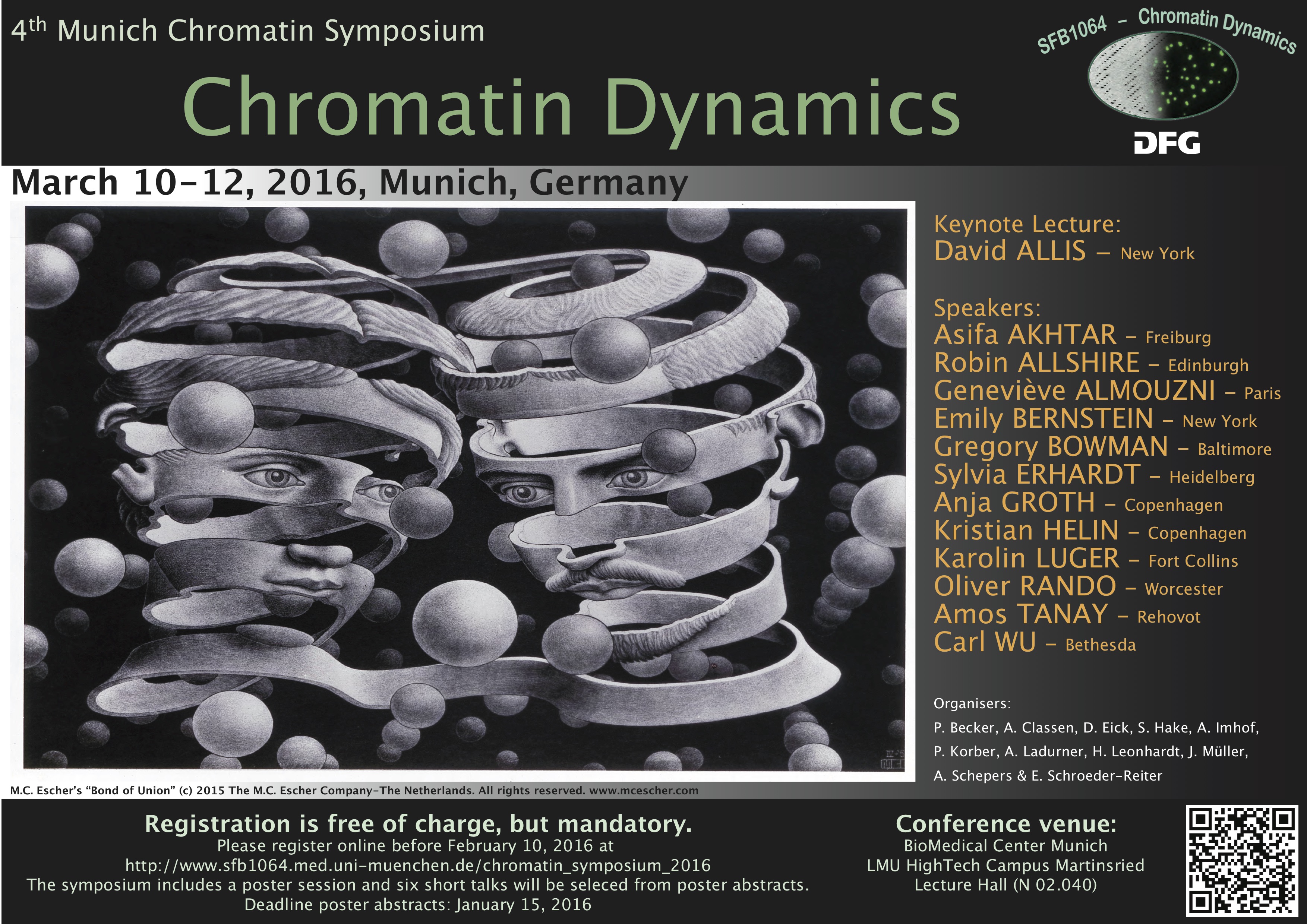 March 1, 2016
A new Academician
Peter B. Becker was elected to become member of the Bavarian Academy of Sciences and Humanities. The Academy was founded in 1759 by Kurfürst Maximilian III Joseph von Bayern.
January 26, 2016
LMU News

Drosophila in midlife crisis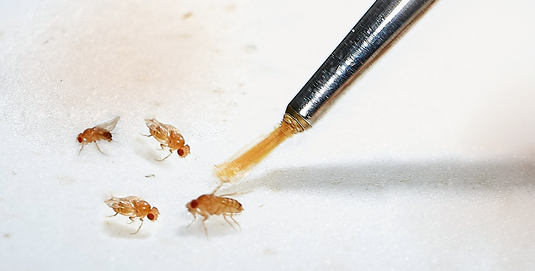 Drosophila
http://www.uni-muenchen.de/forschung/news/2016/imhof_alterung.html
Mapping polymerase modifications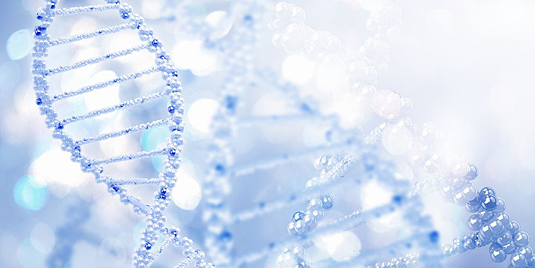 Grafik: Sergey Nevens / fotolia.com
http://www.en.uni-muenchen.de/news/newsarchiv/2016/imhof_polymerase.html
http://www.uni-muenchen.de/forschung/news/2016/imhof_proteinmodifikationen.html
December 15, 2015
Xmas party takes off.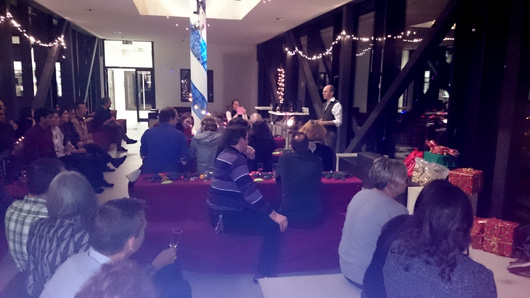 Yes, the bridge works well for festive and jolly celebrations! The first Xmas party of the Molecular Biology division in the new premises happened on the nicely decorated bridge with the may pole transformed by season's decoration.
November 11, 2015
Fresh looks at our research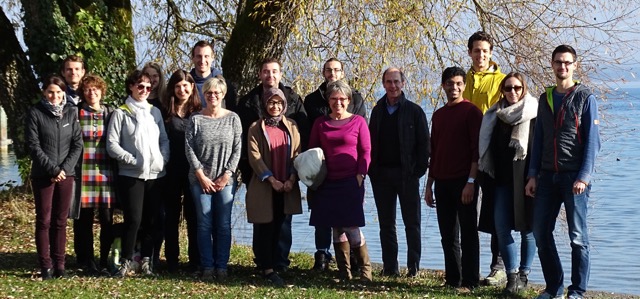 The Becker group retreated to the Benedicine abbay Frauenwörth on the beautiful island of Frauenchiemsee for a two-day discussion of future research directions.
October 26, 2015
Biomedical Center inaugurated
In a most memorable festive event the Biomedical Center was officially inaugurated.
Many had come to be addressed by Bavarian Minister President Seehofer and Federal Minster of Education Wanka.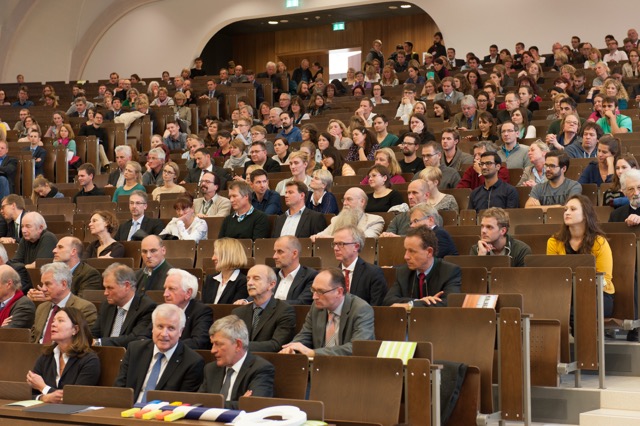 The new BMC Auditorium Maximum was well filled.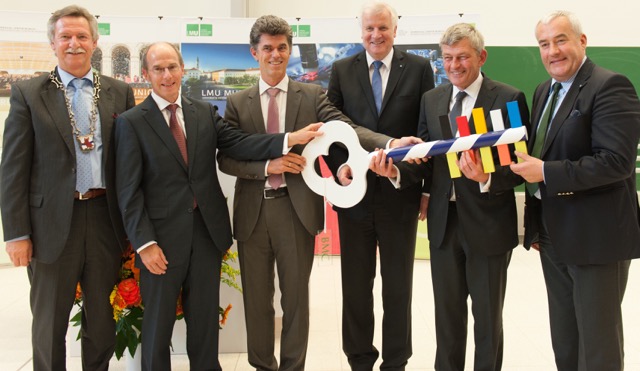 The keys for the BMC were handed over from the constructors to the University.
(from left to right: ): Heinrich Hofmann, Major of the city of Planegg; Peter B. Becker, first Acting Director of the BMC; Gero Hoffmann, Director of the Staatliches Bauamt München II; Horst Seehofer, Minister President of Bavaria; Bernd Huber, President of the LMU; Ludwig Spänle, Bavarian Minister for Education, Science and Arts.
September 21/22, 2015
Wies'n fun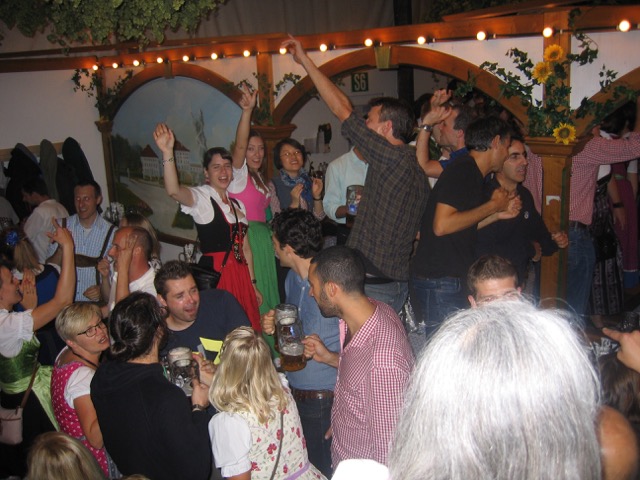 This year's distinguished Octoberfest Lecture of the Chromatin Research Center (SFB 1064) was held by Wendy Bickmore (Edinburgh). Wendy then experienced 'the real thing' as she joined the Molecular Biology crowd to their traditional 'Wies'n' event.
July 27, 2015
Chromatin day - what a day!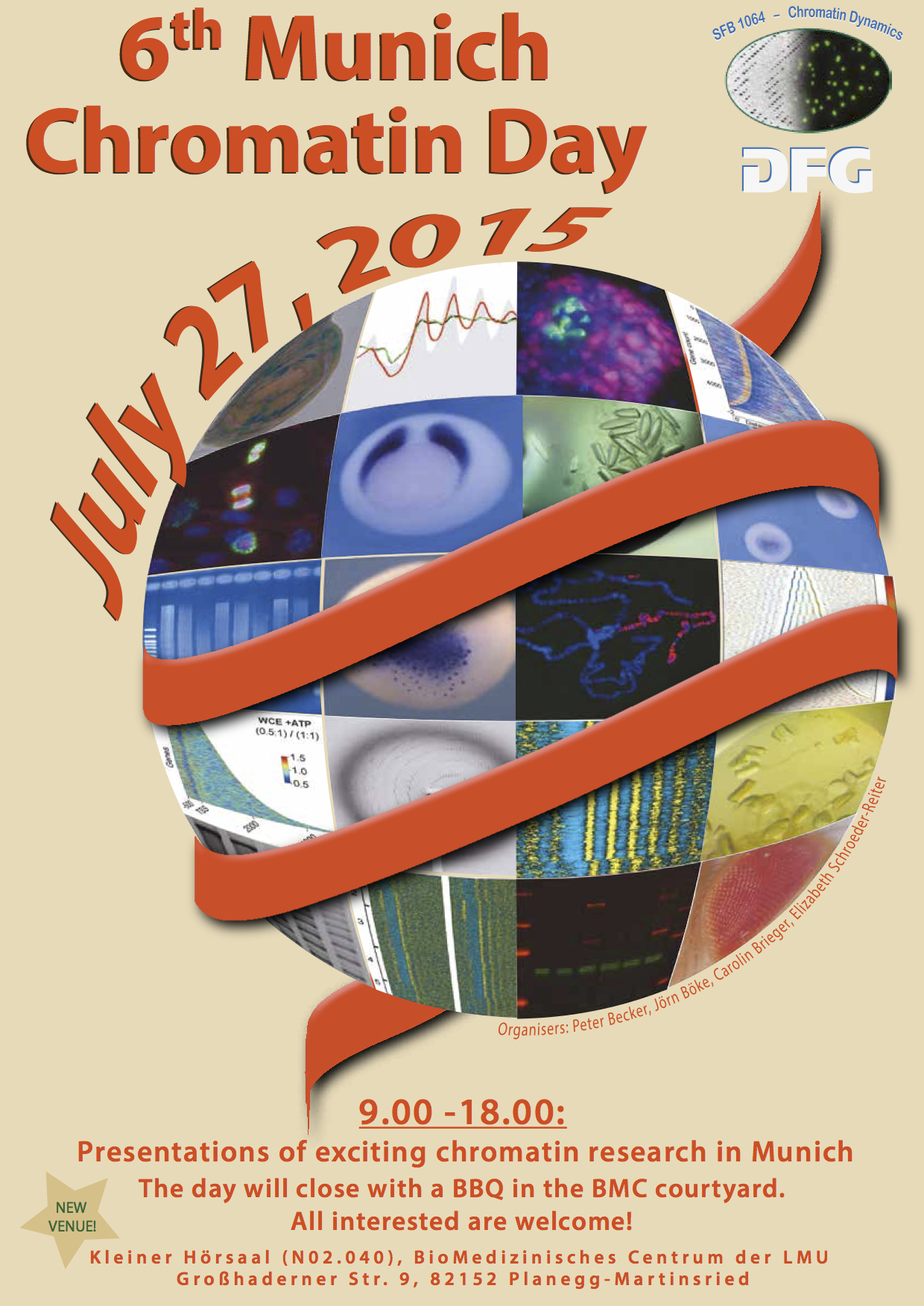 For the 6th time about 150 local chromatin researchers met to present their most exciting data.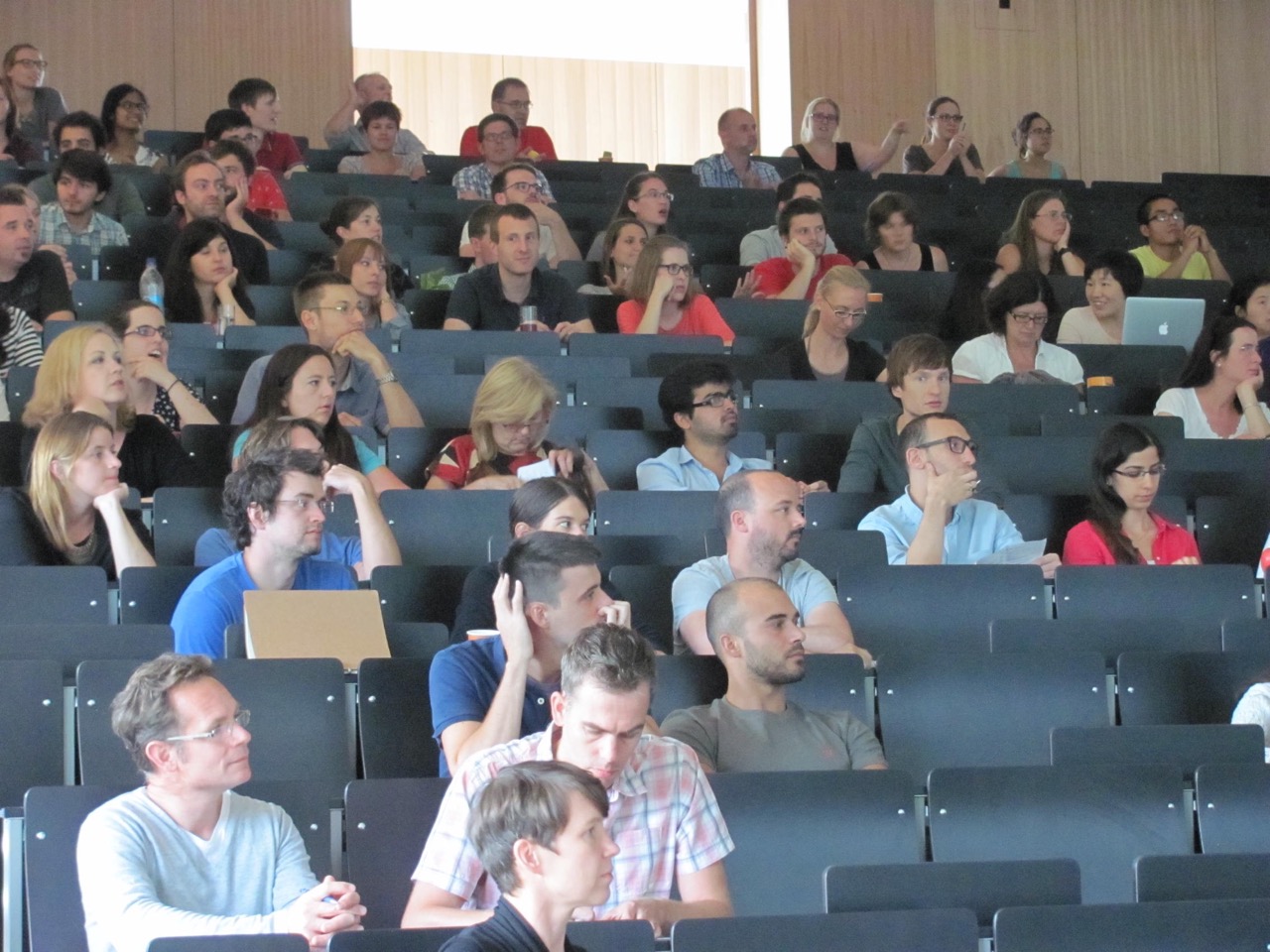 They also warmed the new small lecture of the BMC, which seats 300.
The day ended with a pleasant BBQ at BMC front.
July 25, 2015
Insights into chromatin regulation
The LMU magazine 'Einsichten' published a story about Peter Becker's research on gene regulation through subtle tuning of chromatin structure.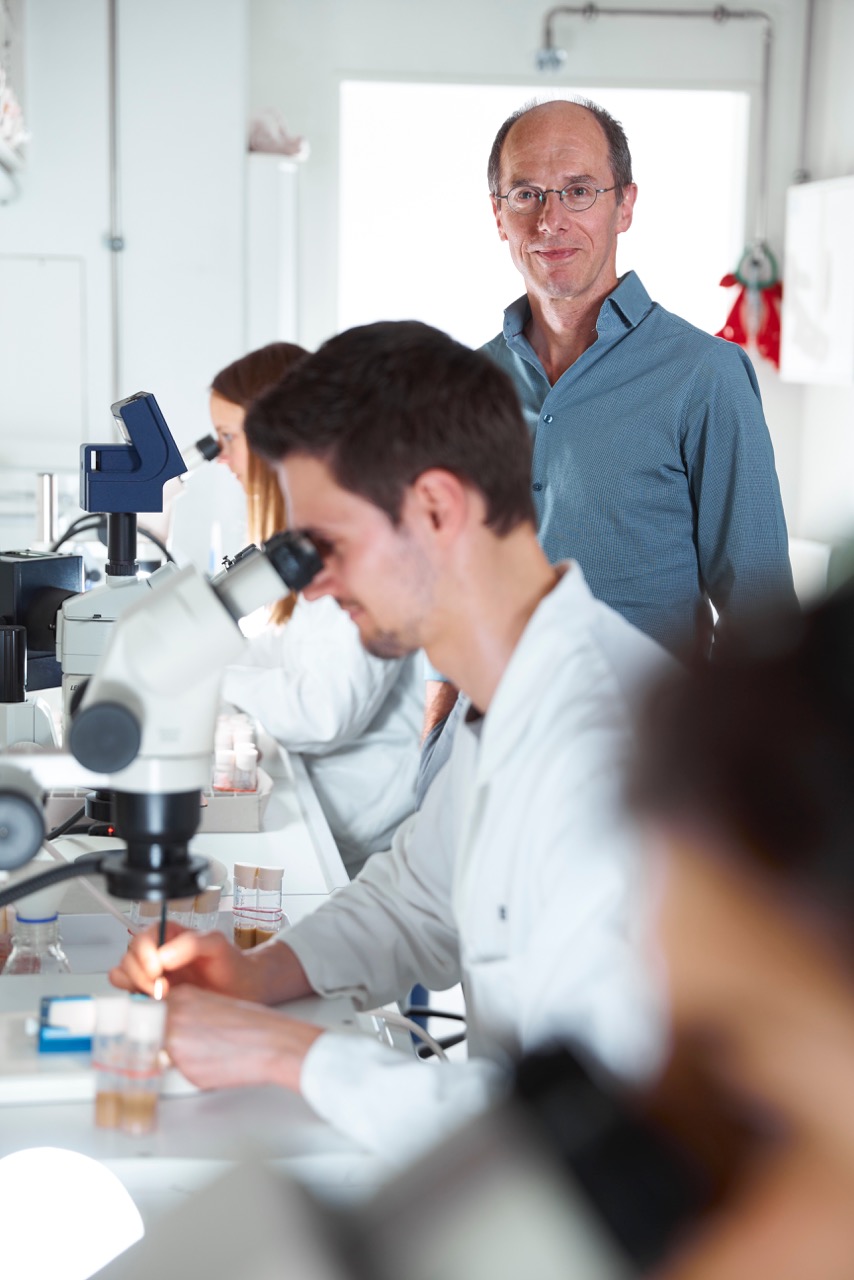 download the article at
http://www.uni-muenchen.de/aktuelles/medien/einsichten/archiv/2015_01.pdf
July 16, 2015
B2run - some want it hot
A strong troup of molecular biology runners joined the LMU team for the B2run event at 32 degrees.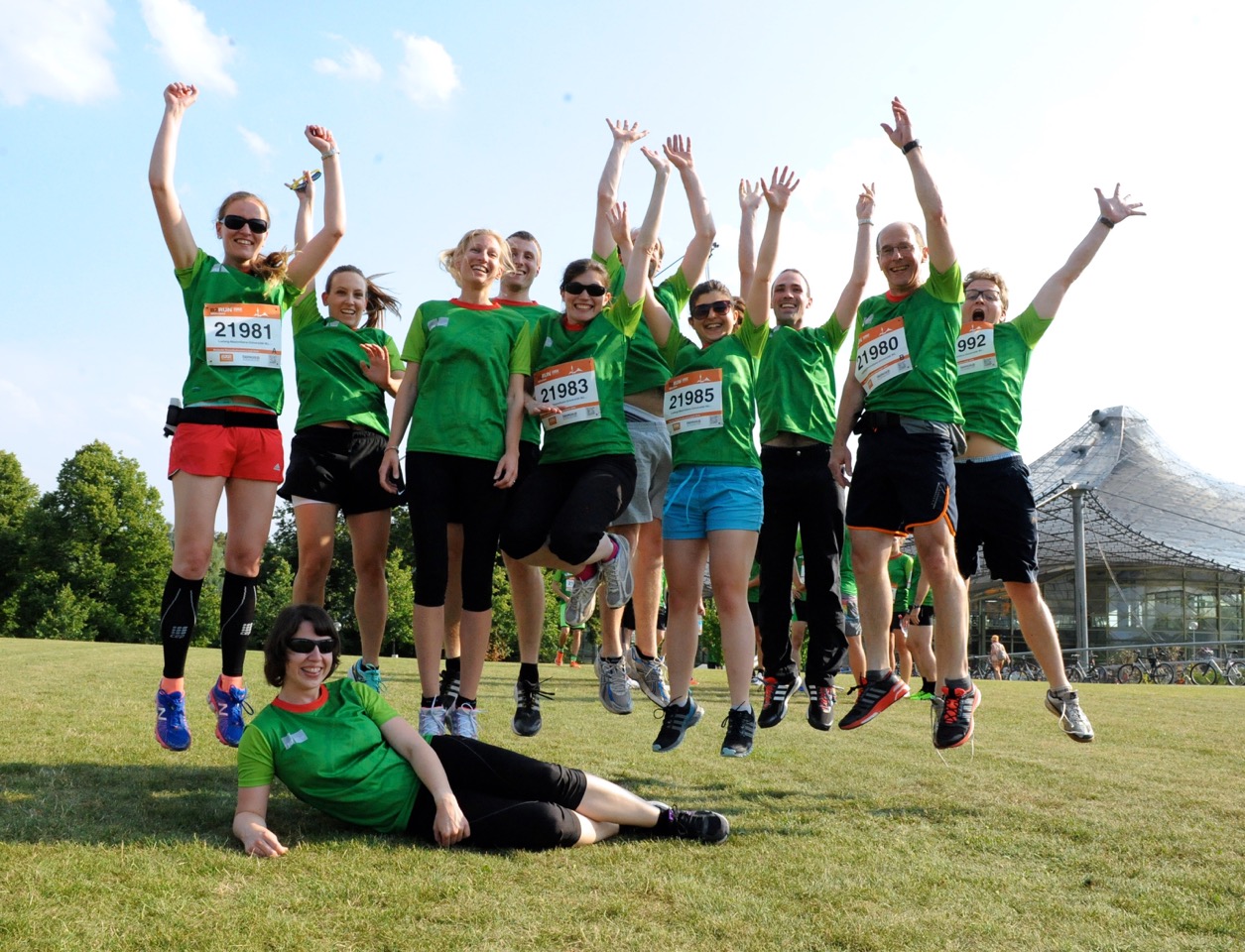 The picture shows them before the run.
see more at:
http://www.uni-muenchen.de/einrichtungen/zuv/uebersicht/komm_presse/verteiler/bilder/bildergalerien/b2run/index.html
July 6, 2015
A strong move, at last!
In a great haul the Molecular Biology Department moved into their new premises in the Biomedical Center.

The building is air-conditioned!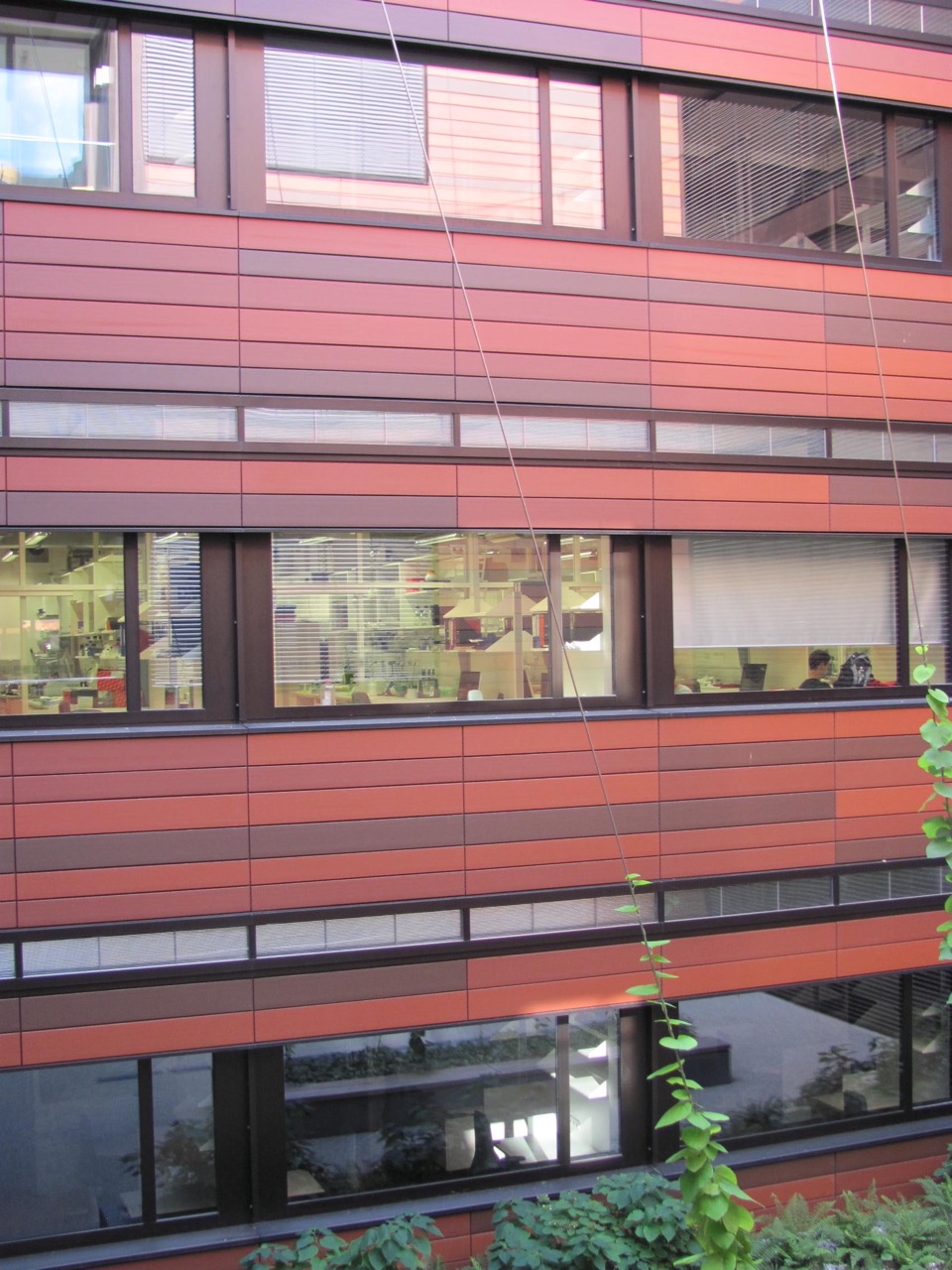 May 26, 2015
Silence is golden
The Schotta group uncovered a novel role for the Atrx protein in silencing retroviral genomes.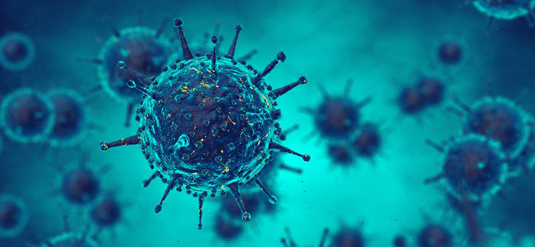 Artist's impression of the structure of a retroviral particle (Source: nobeastsofierce / fotolia.com)
http://www.uni-muenchen.de/forschung/news/2015/schotta_retroviren.html
http://www.en.uni-muenchen.de/news/newsarchiv/2015/schotta_retroviruses.html
February 10, 2015
Beauty and Beast
and many other strange creatures had fun at this year's Carnival Party of the Molecular Biology Department.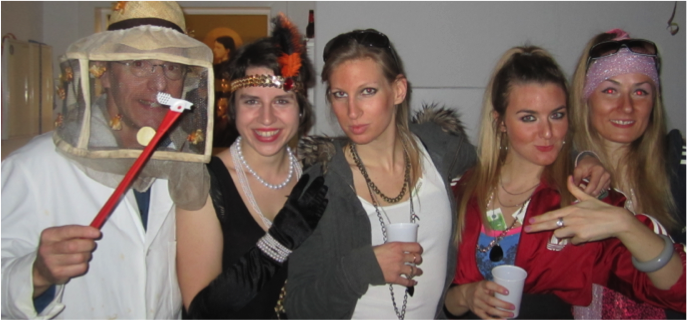 January 8, 2015
Cracking the code
Our genes are packed in the nucleus of cells in a complicated structure termed chromatin. The DNA is wrapped around molecular spools made of histone proteins. The tightness of packaging in chromatin largely depends on chemical modifications that change the properties of histones. Researchers from the groups of Becker and Imhof now teamed up to quantitatively assess the prevalence of many histone modification motifs as well as the contributions of the enzymes that bring it about. Their 'Global and Specific responses of the Histone Acetylome to Systematic perturbation' has just been published in the Journal 'Molecular Cell'.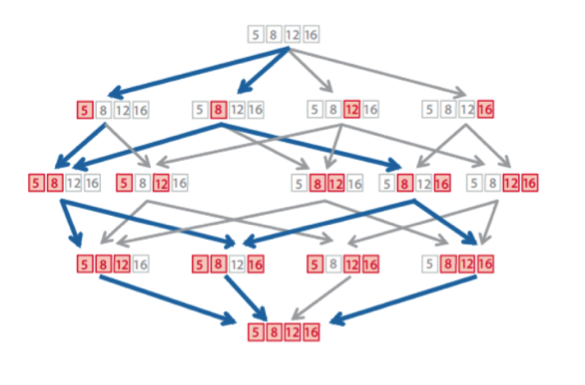 Further reading and information:
Original Article:
http://www.sciencedirect.com/science/article/pii/S1097276514009575
LMU Press release: The epigenetic switchboard
http://www.en.uni-muenchen.de/news/press-services/press-releases/2015/becker_epigenik.html
December 16, 2014
Living Christmas trees
An exciting year of high caliber research and intense teaching was celebrated at the Institute's Xmas party. Following a successful tradition those lab members who had joined the teams during the passed year organised a most memorable evening for their colleagues. The event culminated in a competition between teams to create most imaginative Christmas trees using their colleagues as scaffolds.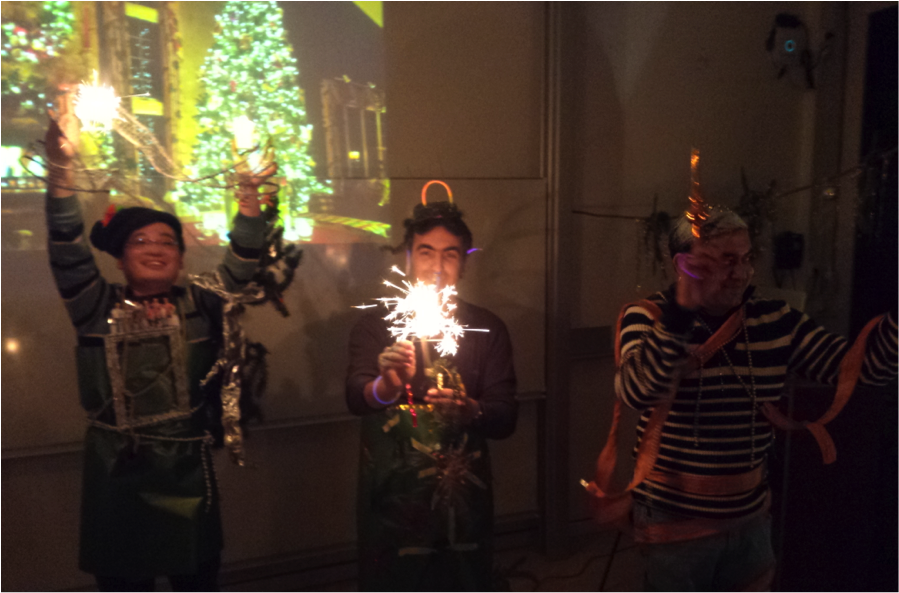 October 21, 2014
Retreat Tradition
The monastery Neustift In Bressanone (Brixen) once again served as an ideal site for a 2.5-day retreat of the Molecular Biologists.

Presentations and discussions revolved around grand topics: Good scientific practice, good statistical analysis, publishing and peer review, just to name a few. The Domino game (picture) showed that everyone in the institute is connected through common interests, symbolized by molecules, processes or methods.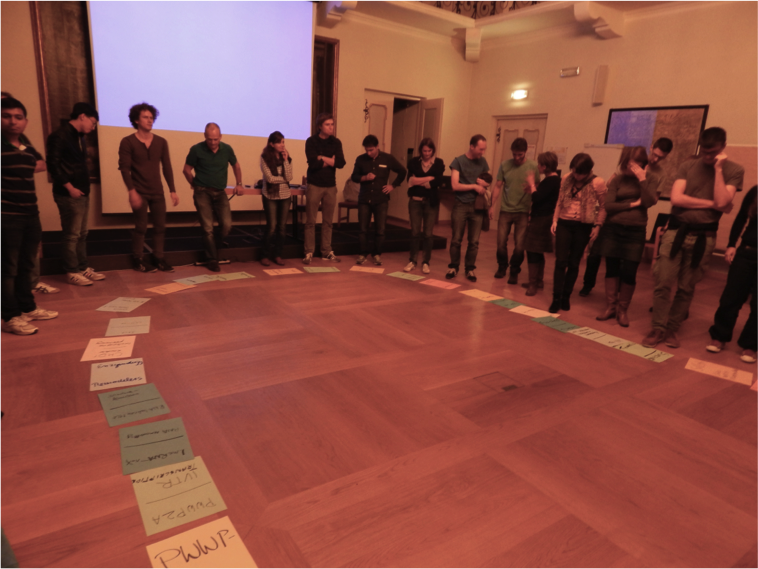 July 30, 2014
Chromatin day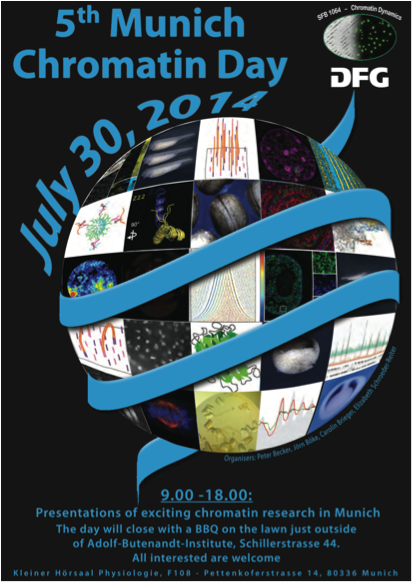 Chromatin Day has become a tradition in Munich that no one would want to miss. More than 150 registered participants met for a day of intense discussions of the most exciting results in chromatin research. The day also provided an ideal forum to test new ideas, find collaborators or just have a good time with nice people with similar mind-set!
July 16, 2014
Catch summer while it lasts!
Was it really one of the last warm days that we took off for an afternoon of Barbecue, games, chatting and swimming at Lake Feringa, North of Munich?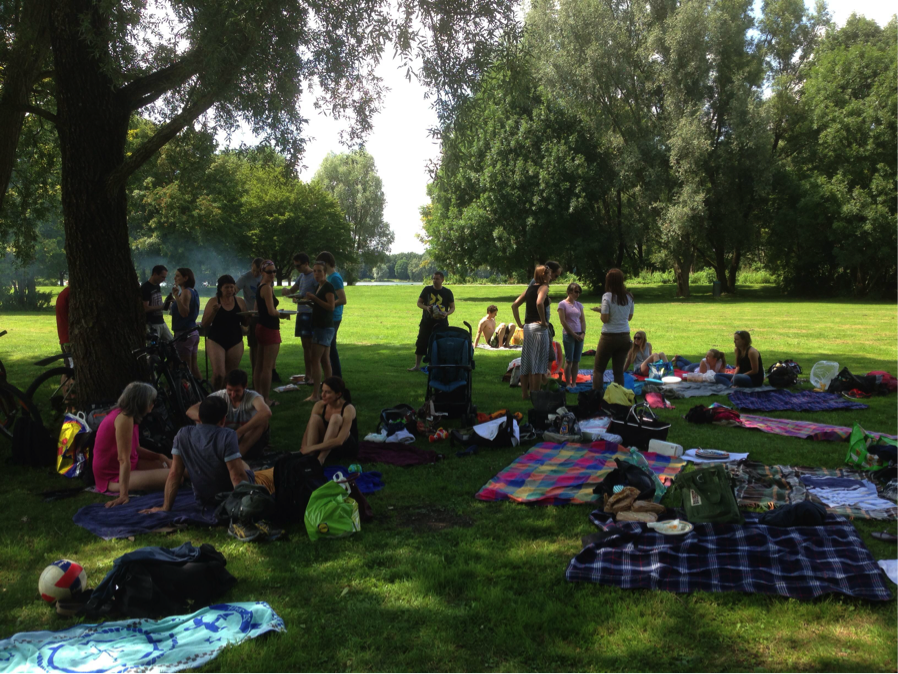 July 15, 2014
Chromatin research on the run
Seventeen members of the 'Molecular Biology' Institute joined some 500 runners of the LMU to participate in the annual 'B2run' company run at the Olympia Park. It was a very special experience to be part of a crowd of 30,000 runners and finishing the run in the scenic stadium.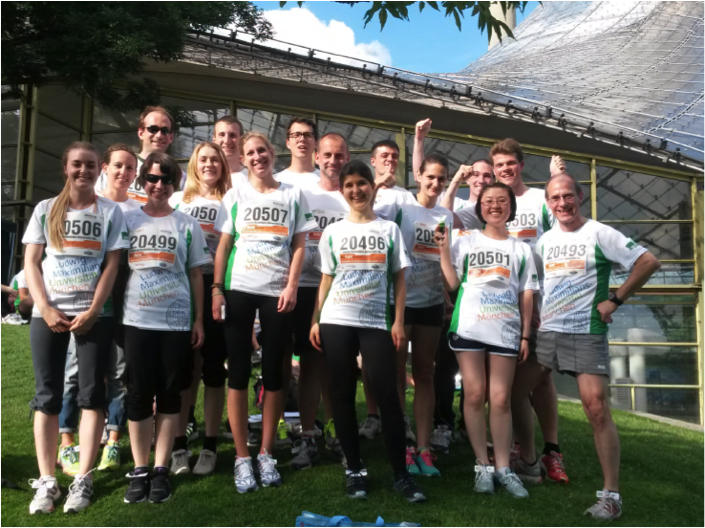 http://www.uni-muenchen.de/aktuelles/news/2014/b2run_2014.html
May 6, 2014
Wissenschaft für Jedermann: Peter Becker explains Epigenetics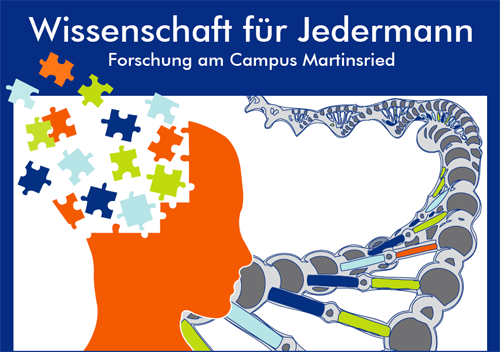 Peter Becker discussed the topic of 'Epigenetics' with an interested lay audience at the Max Planck Institutes in Martinsried. To which extent do nutrition and environment leave lasting 'imprints' in our genome that twist our metabolism? Becker explained why this question is interesting and why it is so difficult to answer. The lecture was part of a series of popular lectures 'Wissenschaft für Jedermann' organized and hosted by the Max-Planck-Institutes, where researchers from the Science Campus Martinsried/Großhadern explain their research to the residential neighbours.
http://www.biochem.mpg.de/news/publicseminars/wiss_jed
http://www.biochem.mpg.de/3107428/2014_Programm_WissenschftJedermann_komplett.pdf
February 13, 2014
Research Vision – Strategy – Tactics
The Group Leaders of the Molecular Biology Unit retreated for two days' discussions to Aschau, a small town in the Chiemgau an hour off Munich. After 20 hours of vivid discussions they returned full of new ideas and insight.

The picture shows Sandra Hake, Ralph Rupp, Felix Müller-Planitz, Axel Imhof, Philipp Korber, Gunnar Schitta, Peter Becker and Tobias Straub.
January 3, 2013
Axel Imhof organises conference on nuclear proteomics
In May 2014 Axel Imhof is organising a EMBO/FEBS lecture course on nuclear proteomic on the greek island of Kos. This Course is unique in that it focuses on nuclear proteomics and data integration in order to enhance our understanding of the molecular mechanisms that mediate epigenetic processes. For more information and registration see http://www.nuclearproteomics.org
January 2, 2013
A Centromeric Complex Mediated Species Separation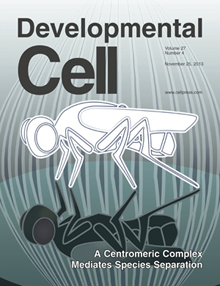 Hybrid males produced by crosses between these two species are inviable, while the female hybrids are viable but sterile. Axel Imhof's group has now shown that the proteins encoded by the genes Hmr and Lhr form a molecular complex, which binds to the centromeric regions of chromosomes, i.e., at the site of the typical constriction found in paired sister chromosomes prior to cell division, and play an important role in chromosome segregation later in cell division. The problem for the hybrids lies in the fact that, although both D. melanogaster and D. simulans synthesize HMR and LHR proteins, they make these gene products in very different amounts.
Further information and comments in
http://www.cell.com/developmental-cell/abstract/S1534-5807%2813%2900578-9
http://www.cell.com/developmental-cell/abstract/S1534-5807%2813%2900668-0
December 17, 2013
Great Food, Fun and Follies at the Xmas party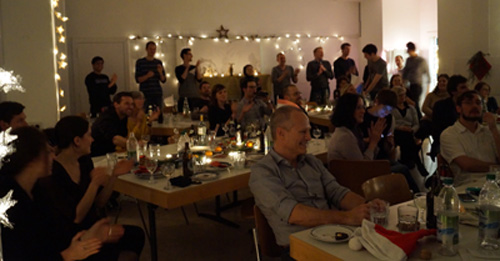 After a perfect buffet dinner this year's Christmas party morphed into a firework of quiz and music shows that closed a great and successful working year.
Thanks to all those colleagues who had joined our institute during the past year for a perfect organisation of this joyful and memorable evening!
September 24, 2013
Octoberfest Lecture and Fun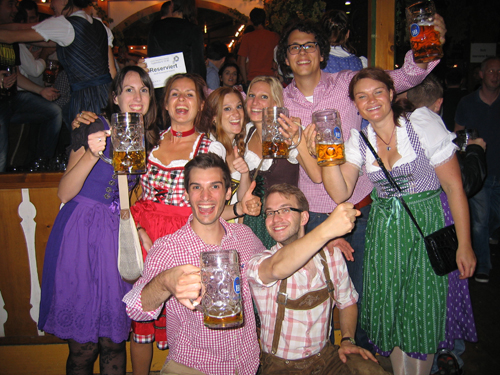 Many alumni joined the members of the lab for singing, dancing and – yes - drinking at the traditional Octoberfest outing. This year's special guest was Frank Pugh (PennState University), who had been awarded the honor to give the 'Octoberfest Lecture' to the members of the Collaborative Research Center on 'Chromatin Dynamics' (SFB 1064) on the day before the Wies'n event. The picture shows members of Sandra Hake' team in full swing.
September 20, 2013
Sandra Hake and Philipp Korber were selected to contribute an article on epigenetics for Atomic Culture
Atomic Culture is an European Union platform in collaboration with major European newspapers (like Frankfurter Allgemeine Zeitung or El Pais) to communicate basic science to the public (www.atomicculture.org). This article was posted on the web pages of Atomic Culture (http://atomiumculture.eu/content/gifts-beyond-genes-ancestors%E2%80%99-lifestyle-biological-heritage-1), The Irish Times (link expired) and in a blog of El Pais (http://blogs.elpais.com/atomium-culture/2013/03/gifts-beyond-genes-ancestors-lifestyle-as-biological-heritage.html).
July 29, 2013
Adventures on the river Isar!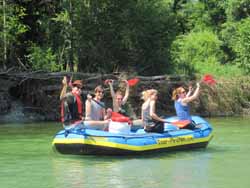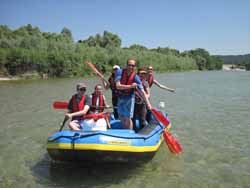 The groups of Hake and Korber (the famous "North Lab") escaped sticky and hot lab rooms for a day of fun on and in the river Isar. Tackling "dangerous" cataracts, crashing into overhanging trees and branches, encountering diverse forms of wild-life and having a picnic at the beautiful shore with delicious meatballs, veggies and fruits completed a gorgeous day.
July 26, 2013
Chromatin Day again!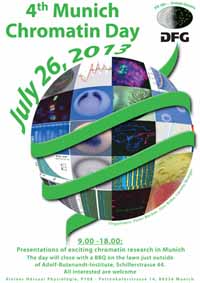 Some 150 researchers gathered together for an exciting day of talks on the hottest stories from the wider 'Chromatin community' in Munich. Traditionally, Chromatin Day features the Annual Report Meeting of the DFG-funded Collaborative Research Centers 'Assembly and inheritance of functional states' (until end of 2012) and 'Chromatin Dynamics' (starting in fall of 2013). During the years Chromatin Day has evolved into an inclusive platform for vivid exchange of ideas, news, protocols and the latest gossip within the wider chromatin community in Munich.
July 26, 2013
Hairpin undone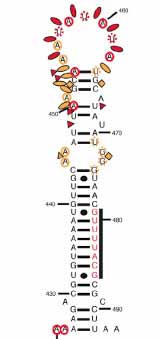 Male fruit flies have one X chromosome per cell, females have two. So genes on the male X must work twice as hard to produce the same amount of protein as its female counterparts. Researcher in the team of Becker team now found a new switch involved in making this possible. It consists of a hairpin structure of a non-coding RNA that needs to be unwound by an RNA helicase to initiate the assembly of a regulatory RNA-protein complex. Maenner et al., Molecular Cell 51, 174 (2013)
Comments in
http://www.ncbi.nlm.nih.gov/pubmed/23870139
http://www.en.uni-muenchen.de/news/newsarchiv/2013/f-m-56-13.html
June 17, 2013
Out of the lab and into the sun!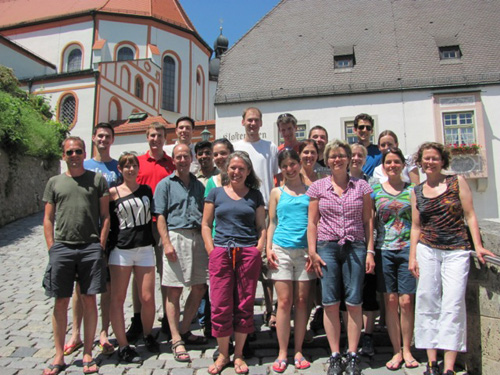 The groups of Becker and Müller-Planitz spent a hot and sunny day hiking up from Herrsching at Lake Ammersee to the monastery of Andechs, which is well known for its beer specialities. Walking and talking - several new lab members got to know better their future lab mates. The afternoon brought refreshments in the form of icecream and fresh lake water.
May 27 2013
Time-out – time to reflect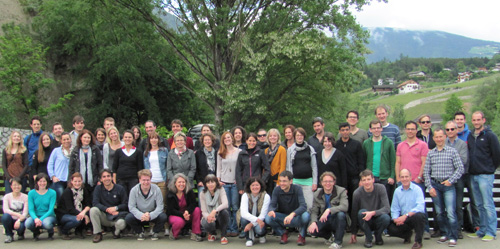 The molecular biologists took the time to reflect on the roles of scientists in our society during their retreat to the old abbey 'Neustift' in Brixen (Bressanone) (May 27-29). Especially the sessions on 'Scientists in conflict' and 'Scientists against society' revealed the complex relationship of scientist in society, between ethos and expectation, freedom of research and 'work for hire'. This year's guest speaker, Prof. Holger Andreas (Munich Center for Mathematical Philosophy, LMU) introduced the molecular biologists to basic concepts of logic and current research efforts to formalise scientific theory. An afternoon was dedicated to hiking, rafting, biking and exploring the old town of Brixen.
May 24 2013
10 Million Euros for Chromatin Research in Munich

The German Research Foundation (DFG) will provide funding for a new Collaborative Research Centre (CRC 1064) on 'Chromatin Dynamics' in Munich. The CRC coordinates the research of 17 principal investigators homed in the faculties of Medicine, Biology and Chemistry & Pharmacy of the LMU as well as in the Max Planck Institute for Biochemistry and in the Helmholtz Zentrum München. The spokesperson and coordinator of the CRC is Peter B. Becker. With seven funded projects (PIs: Becker, Hake, Imhof, Korber, Müller-Planitz, Rupp and Schotta) the Molecular Biology Unit serves as a hub for research on Chromatin Dynamics in Munich.
The CRC focuses on fundamental aspects of chromatin dynamics. It aims at understanding principles and mechanisms that endow chromatin organisation with diversity, flexibility and plasticity to respond to environmental and developmental cues. CRC research strives for an integrated understanding of chromatin structure and function from atomic resolution, via molecular interactions and mechanism to finally reach the microscopically resolvable structures of nuclei in physiological settings.
The CRC will take up its activities in October 2013 and will be supported with close to 10 million € over the course of the next four years. In addition to enabling individual projects, the funds also support core facilities in the areas of 'Bioinformatics', 'Advanced Light Microscopy', 'Proteomics' and 'Monoclonal Antibodies' and finance a Graduate Programme.
Contact: Peter B. Becker
Press releases
http://www.dfg.de/service/presse/pressemitteilungen/2013/pressemitteilung_nr_16/index.html
http://www.uni-muenchen.de/forschung/news/2013/f-29-13.html
http://www.en.uni-muenchen.de/news/newsarchiv/2013/f-m-42-13.html
April 19, 2013
Schotta group identifies a novel mechanism for correct cell division
Cell proliferation requires doubling of the genetic information and proper distribution to the daughter cells. Malfunction leads to cell death or cancer. Gunnar Schotta and colleagues identified a novel mechanism which is important to segregate faithfully chromosomes into the daughter cells. After DNA duplication, the duplicated chromosomes are kept together by a proteinous ring known as cohesin. Before cell division cohesin is cut and the duplicated chromosomes are equally distributed to the daughter cells. The Schotta team identified the chromatin factor Suv4-20h2 as key to correctly position the cohesin ring. Future studies will address whether cancer cells indeed show cohesin misregulation by Suv4-20h2, providing it as a potential cancer biomarker. (Genes and Development, April 18 2013)
March 22, 2013
Axel Imhof participates in public discussion on epigenetics
Is there inheritence beyond the genetic informaiton encoded in the DNA sequence? Can we influence inheritence by our lifestyle? Are you what your grandmother ate?
Professor Axel Imhof participated in a public discussion on the scientific basis and the public perception of epigenetics (November 2012, Oslo).
see youtube link
March 20, 2013

We mourn the loss of our dear colleague and friend, Prof. Dr. Gustav Klobeck, who on March 4, unexpectedly passed away due to a heart failure. Gustav did his research towards a medical doctor's degree in 1977/78 and has been a valued member of the institute since 1982.
We miss him a lot.
January 31, 2013
Rupp group deciphers novel pathway for silencing pluripotency associated POU-V genes
The quest of modern developmental biology is a detailed molecular description of the process that leads from the fertilized egg to the complex and highly differentiated adult organism. This process is controlled largely on the level of gene expression. While early embryonic cells are pluripotent and capable of transcribing most of their genome, older cells have become committed to the germ layer and differentiation programs during gastrulation. They express then a subset of genes compatible with their future physiological function. Young, pluripotent cells and post-gastrula, committed cells express different networks of transcription factors and contain chromatin of different structure and composition. How these two regulatory layers are interconnected during development is incompletely understood. We describe a novel and unexpected link between the pluripotency-associated POU-V gene Oct-25 and xSuv4-20h histone methyltransferases. XSuv4-20h enzymes are required to repress the Oct-25 gene, a homolog of mammalian Oct4, in the neuroectoderm of frog embryos as a prerequisite for neural differentiation. Consistently, murine Suv4-20h double-null ES cells show increased Oct4 protein levels before and during in vitro differentiation and display compromised differentiation in comparison to wild-type ES cells. Thus, Suv4-20h enzymes control specific POU-V genes and are involved in germ-layer specific differentiation.
More information: Rupp Group Website
December 2, 2012
Müller-Planitz and Becker groups discover a novel mechanism for nucleosome remodeling
The genetic material in the cell nucleus is coiled around histone proteins, giving rise to a so-called nucleosome. Packaging the DNA into nucleosomes permits the long fibers of DNA to fit into the nucleus, helps to protect them from breakage and allows the cell to regulate gene activity. However, nucleosomal DNA is inaccessible to a range of enzymes that are responsible for the read-out of the genetic information. The cells therefore evolved nucleosome remodeling enzymes, which solve the problem by repositioning the entire nucleosome on the DNA. The Müller-Planitz and Becker groups now joined forces to uncover the mechanism behind this reaction (see Figure).

Figure: Remodeling mechanism of the nucleosome remodeling enzyme ISWI. Histones and DNA form multiple contacts with varying strengths within the nucleosome particle (black clamps). The ATPase domain of ISWI attaches to histones, for example the histone H4 N-terminus (I). Upon ATP hydrolysis, the ATPase domain translocates DNA relative to the histones, thereby distorting the nucleosome structure and disrupting DNA-histone interactions in the vicinity of SHL2 (II). With the strongest histone-DNA contacts destabilized, the histones rearrange relative to DNA to optimize interactions, forming a novel set of contacts and thus a repositioned nucleosome (red clamps; III).
more information: LMU press release Müller-Planitz Group Website Fulltext (pdf)
Oktober 18, 2012
Becker group describes new enzymatic activity
How do cells ensure that the components of a protein complex are produced in the appropriate amounts? Becker and his team were able to demonstrate that, in the fruit fly Drosophila, the ribonucleoprotein complex DCC is equipped with an autoregulatory sensor and effector system that detects and corrects imbalances in the relative amounts of its various subunits. They discovered that one core element of the complex, the protein MSL2, possesses an ubiquitin ligase activity which attaches ubquitin to surplus subunits thereby marking them for degradation.
see press release: http://www.en.uni-muenchen.de/news/newsarchiv/2012/2012_becker.html
September 25, 2012
Imhof group discovers mechanism for euchromatin formation
Accessibility of chromatin plays an important role in the control of genes and has to be maintained. But how is chromatin accessibility regulated on genome wide scale ? The research team of Axel Imhof and his collaborator Gernot Längst in Regensburg could show that a heterogenous pool of short, single-stranded RNAs can keep chromatin in an open, accessible state. This class of chromatin-associated RNA is stably linked to chromatin and largely composed of snoRNAs. They further discovered a mechanism in Drosophila in which those RNAs and a protein called Decondensation factor 31 form an RNA-protein network that is involved in the formation of euchromatin. Analysis of chromatin associated RNAs in human cells also reveals a strong enrichment of snoRNAs, implying a conserved role for these molecules in higher-order structures of chromatin.
http://www.ncbi.nlm.nih.gov/pubmed/23022379
September 25, 2012
O'zapft is!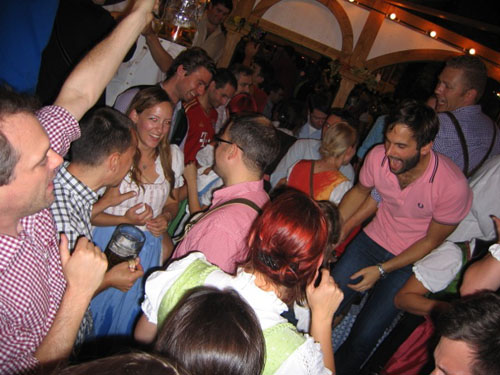 The Molecular Biology Unit had fun at their traditional lab outing to the Oktoberfest. New lab members were initiated and had the opportunity to meet alumni in this very special, communicative setting. Special guest for this year's event was Prof. Genevieve Almouzni (Institut Curie, Paris), who had been awarded the 'Oktoberfest Lecture Award' of the Munich Chromatin Community. Genevieve's Oktoberfest lecture entitled 'Chromatin as play-doh: Joys 'R' us' on September 24 was well attended.
July 27, 2012
CHROMATIN DAY!
The Munich chromatin community gathered at the BioCenter LMU for an intense day of scientific presentations revolving around chromatin structure and function. Annual Chromatin Days are organised by the local Collaborative Research Center SFB TR5. They provide a forum for all those interested in high-level chromatin research. This year, some 150 scientists gathered to learn about the latest findings of the local chromatin groups. Presentations are mostly by senior PhD students or postdoctoral fellows, who appreciate the opportunity to present their work in a larger format. The quality of the presentations compared favorably to some international conferences on the topic. After four intense sessions the day ended with a sunny BBQ in the backyard of the BioCenter.
July 24, 2012
Celebrating progress building the Biomedical Center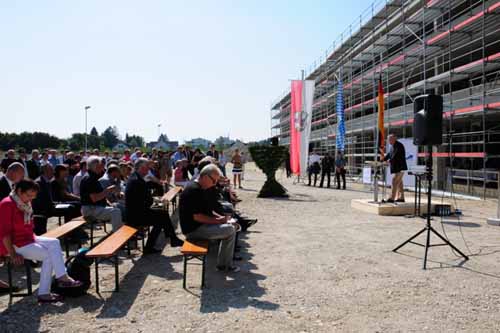 The topping-out ceremony illustrated the impressive progress building the new Biomedical Center (BMC), the future home of the Molecular Biology Unit. The festive guests were addressed by the Bavarian Minister for internal affairs, Mr. Herrmann, the President of the Ludwig-Maximilians University, Prof. Huber, the representative of the BMC scientists, Prof. Becker and the major of the town of Planegg, Ms Detsch. With its 150 Mio € budget the BMC is the largest construction project of a research institute in Germany at present.
The Molecular Biology Unit as well as 7 sister units of the Medical faculty will move into their new premises in the fall of 2014.
Links
http://www.abi.med.uni-muenchen.de/institut/bmc/index.html
http://www.bio-m.org/news/richtfest-am-biomedizinischen-zentrum.html
http://www.m4.de/news/richtfest-am-biomedizinischen-zentrum.html
http://www.merkur-online.de/lokales/planegg/biomedizinisches-centrum-minister-erwartet-grosse-erfolge-2430460.html
July 19, 2012
Molecular Biology Scientist, Antonia Jack, is the fastest woman at the LMU


B2RUN starters: (top row) Jörn Böke, Clemens Bönisch, Peter Becker, Silvia Härtel, (bottom row) Axel Imhof, Antonia Jack, Matthias Hahn

Together with 6 colleagues including the institute head, Peter Becker, Antonia started at this years B2RUN in the Olympia Park, Munich. Taking incredible 26:23 min for the 6,2 km course she was ranked place 1 among all LMU female starters (Pos. 45 overall; 8506 starters).
Completing this excellent result, Peter Becker finished the B2RUN as second best in the subcategory "Best Boss" (time 29:41 min).
All other starters from the institute performed equally well and did finish the run partly with personal best times.
Links:
http://www.uni-muenchen.de/einrichtungen/zuv/uebersicht/betriebsaerztl_dienst/aufgaben/b2run/wertung_b2run/index.html

http://www.b2run.de/muenchen/
June 29, 2012
Hake honoured for outstanding research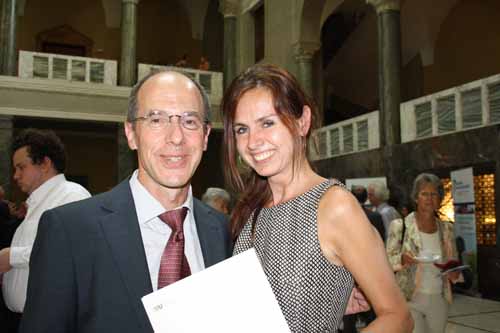 Sandra Hake's work was honoured by the award of the 'Habilitationsförderpreis', sponsored by the 'Münchner Universitätsgesellschaft' in a festive act on the occasion of the 540th 'Stiftungsfest' of the Ludwig-Maximilians-University.
June 24, 2012
Imhof successful in Stategra application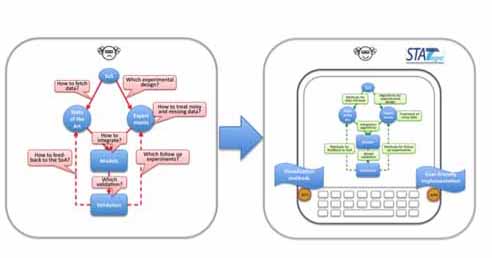 Axel Imhof is a member of the newly funded STategra, an EU funded network that aims to develop new statistical methods and tools for the integrative analysis of diverse omics data for a more efficient use of the various -omics technologies and to make them readily available to the research community through rapid and efficient implementation as user-friendly software packages
June 1, 2012
Imhof elected external faculty member at UC Irvine
Axel Imhof was elected external faculty member of the newly funded Center for Epigenetics and Metabolism (CEM) at the University of California Irvine. The Center focusses on connecting epigenetics, chromatin remodeling and cellular metabolism thereby discovering new regulary concepts in biology and new therapeutic and preventive strategies for the treatment of major human diseases.
April 19, 2012
Korber successful in BioSysNet application

The group of Philipp Korber was accepted as an associated junior research group within the newly established Bavarian Research Network for Molecular Biosystems (www.biosysnet.de). Their application with the project "Comparative genomics of evolutionarily diverged nucleosome positioning mechanisms in S. cerevisiae and S. pombe as studied by in vitro reconstitution" secured funding of about 250.000 Euros in total for the next five years.
February 16, 2012
Molecular Biology in Disguise.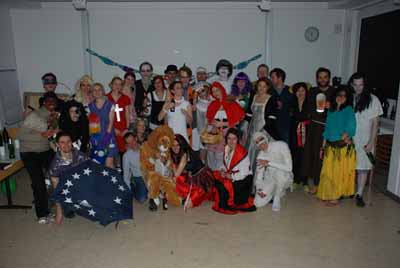 A jolly Carneval Party found even the most serious researchers a bit out of control.
February 13, 2012
Spring cleaning!
The Chromatin researchers spend an intense day cleaning and reorganising their labs. The traditional spring cleaning was rewarded by a beer party.
February 10, 2012
Retreat in White.
The Molecular Biology Unit headed for a two-day retreat in the Kleinwalsertal (Austria). This time the focus of the presentations and discussions rested on various career tracks for PhD students and postdocs. Senior faculty presented their scientific and personal developments in a blend of historical and scientific account. These disucssions were blended with a day of outdoors Winter activities and a morning devoted to exploring the potential for collaborative research within the Department.
December 8, 2011
Becker re-elected member of DFG review panel

Peter B. Becker was re-elected member of the Study Section 'Cell Biology' (Fachgutachter für Zellbiologie) of the German Research Council. These study sections review all grants submitted to the DFG in their field and make funding recommendations to the Senate of the DFG.
November 16, 2011
Becker receives ERC Advanced Investigator Grant .

Prof. Peter B. Becker was awarded one of the prestigious 'Advanced Investigator Grant of the European Research Council (ERC) to study the 'Assembly and Maintenance of a Co-regulated Chromosomal Compartment'. This research will be supported with close to 2.5 Million Euro over the course of the next 5 years.
October 17-19, 2011
Molecular Biology Retreat
The Molecular Biology Unit retreated for two days of discussion on epigenetic mechanisms in health and disease to Wildbad Kreuth. The scientific discussions were punctuated by outdoors activities: a hike through the scenic Wolfsschlucht to the Schildenstein, and an afternoon of team building activities, which was supported by the Institute for Leadership and People management of the LMU.
September 29, 2011
Foundations of the new Biomedical Center laid.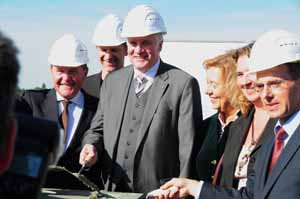 In an official and festive act the foundations for the new 'Biomedical Center' were laid on the HighTech Campus on the LMU in Martinsried. The Molecular Biology unit and eight sister departments of the Medical faculty will move into their new, state-of-the-art premises in summer of 2014. The importance of the event was highlighted by the participation of Ministerpräsident Seehofer, Bavarian Minister of Research Dr. Heubisch and Staatssekretär Dr. Schütte of the Federal Ministery of research,. The new building will host high-level research on the 'Plasticity of cellular programmes'. It is financed by the Bavarian HighTech Offensive 'Bayern 2020' and additional support form the Federal Government.


Links
http://www.abi.med.uni-muenchen.de/institut/bmc/presse/bmc6/index.html
http://www.youtube.com/watch?v=V90mQiJvYoU
June 30, 2011
Becker and Korber new members of the Network of Excellence EpigeneSys.

Peter B. Becker and Philipp Korber were elected Associate Members of the EU-Network of Excellence 'EpigeneSys', which is founded by the 7th framework programme of the European Union. The assembly of the Associates elected Peter Becker to their representative within the Network.
May 20, 2011
Landmark paper on nucleosome positioning mechanisms by Korber group
The Korber group published, in collaboration with the group of Prof. B. Franklin Pugh, Pennsylvania State University, USA, the first genome-wide in vitro reconstitution of in vivo-like nucleosome positioning (Zhang, Z. et al., 2011, Science, 332(6032):977-80).
Press release: http://www.uni-muenchen.de/aktuelles/presseinformationen/2011/f-35-11.html
Downloads